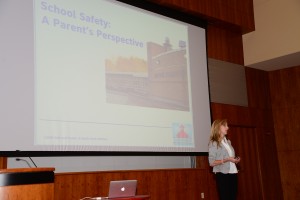 Michele Gay lost her youngest daughter Josephine in December 2012 during the Sandy Hook school shooting in New Town, Conn. Gay came to Oswego State to advocate for safer and more secure schools on Sept. 17.
Co-founder of Safe and Sound: A Sandy Hook Initiative, Gay travels the country speaking as a former teacher and committed parent. With the personal loss of her daughter Josephine Grace combined with a deep involvement in post-tragedy work, Gay has committed herself to, educating and advocating for enhanced measures for school safety and security.
During her discussion, Gay recounted the night before and the morning leading to the shootings. She had dropped her daughters off at school like any other day, returned home and was having breakfast when she received the automated phone call that announced there had been a school shooting.
As she left home to gather more information, she recalled that what was happening did not sink in until she parked down the road from the elementary school. It was then that she realized, after seeing all the first responders in the area, that something very real was happening.
During her presentation, she recounted step by step the shooter's movements as well as how the principal, staff and children in the building responded. By doing so, she gave us an inside view of how this tragedy occurred and what safety measures can now be implemented to maintain a safer, more secure school environment. She went on to say that having these initiatives in mind might significantly reduce the number of tragedies such as Sandy Hook. Gay outlined statistical facts that were important to acknowledge in regards to school safety throughout her presentation such as. One individual perpetrates 98 percent of school shootings. Two perpetrates 2 percent. Sixty-eight million children are separated from their parents each workday. Twenty-eight states lack basic measures to safe guard children in childcare and schools. The national average response time to an emergency is five to six minutes. No one has died in a school fire in 57 years.
She acknowledged the fact there are numerous of fire safety measures in place within the U.S. to prevent countless tragedies from happening. However, there are no U.S. safety regulations in place for school violence emergencies. She duly noted that in order for there to be change, education, training and preparation must be implemented.
"So, I definitely think mental health intervention, increased programming and all of those things are very important to preventative and intervention efforts that need to be happening in our communities," Gay said. "I think that's pretty widely accepted. For sure it was a factor, but it was one of many in what happened with us. So for us, we have to concentrate on what we are called to concentrate on, and that's very much the preparation, the intervention and the education about safety itself."
According to Gay, her group is primarily focused on implementing practical solutions to gun reform.
"It's a shame. That's why we chose this path and we've chosen to be very pure about it, because after every single tragedy that you hear that involves a gun, the immediate reaction is gun control and the need to revisit that over and over again," Gay said. "And in my lifetime that's all that I've seen in all of these tragedies; and also being so struck by the fact that we chose a really different route. We really wanted to focus on practical measures that can be implemented, that can be shared and that can empower community members to a part of the solution."
Gay suggests that having better school safety stems from using better resources and putting them in actions.
"In terms of school safety, it's education and preparation for us." Gay said. "When you have a better-prepared, better-educated population, as with fire safety, you can see what can be accomplished with that level of education, preparation, training, practice and innovation. So if we really decide that this is something we want to put a stop to, it's within our power. We'll never be able to put the threat to zero, but absolutely we can have an impact on safety."