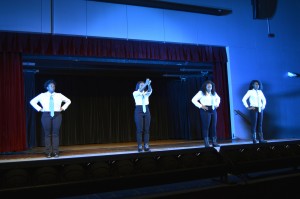 Last Saturday the 29th Annual ALANA Fashion Show demonstrated to students what it means to be culturally diverse.
ALANA (African-Latino-Asian-Native American) is an umbrella title for several major racial and cultural groups that congregate on campus and includes Black Student Union, Caribbean Student Association, Latin Student Union, African Student Organization and Asian Student Association. All of these student organizations have a similar goal, to spread campus awareness and promote open-mindedness of other races and world cultures.
ALANA is an organization open to whoever wishes to support and learn about world cultures; anyone of any race or cultural background is welcome to join ALANA.
Each subgroup of ALANA operates separately as a small council and has an elected executive board, which, together with group members, discusses and plans events that will educate students and the public on racial and cultural issues, as well as showcase their unique individuality as members of a minority group. These groups come together each fall to plan and deliver the ALANA Fashion Show and then break away for most of the academic year to focus on subgroup events and activities.
Although each organization is student run, faculty members represent each subgroup of ALANA, while Magdalena Rivera acts as the Student Involvement and ALANA Coordinator and helps to construct and guide group activities, including the fashion show.
The fashions seen in the show were composed of not only students' own clothing, but tailored and handmade professional pieces that stylized American-influenced attire, as well as traditional cultural clothing, as seen throughout portions of the show.
However, this yearly fashion show is not just a clothing display. It also is a showcase that works to present racial disparities in America and across the globe. Along with the incorporation of the Image Step Team, comedians Marlon Randolph and Omar Thompson and music by DJ Tumbo, each ALANA subgroup had their own time on stage throughout the show, set a scene and used student dialogue and music to convey their interpretation of the theme of the show.
The theme of this year's fashion show was "Empowerment for the Future," a concept that worked to illustrate the struggles minorities face when it comes to working through their socio-economic constraints and striving for a successful future.
The staged group scenes dealt with problems like educational discrimination, cultural assimilation and suppression, women's oppression and racial stereotyping. However, the message of ALANA and the fashion show is not to just expose racial or cultural issues, it is also to reveal the beauty and unique originality of races and world cultures.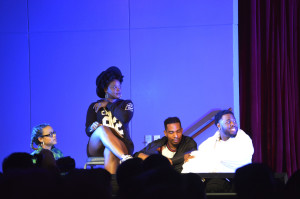 "I always see it as us showing people what they wouldn't see right off the bat," said Bilikiz Adebayo, Oswego State graduate student and ALANA member. "For example, we see starving African children on TV, but we never see the beautiful clothing of the culture, we never hear the beautiful music, so the fashion show is a way to show people what they don't see on TV or what they don't hear in the media."
This year was Adebayo's fifth ALANA Fashion Show. During her undergraduate years at Oswego State, she was a member of the African Student Organization and worked on their executive board for three years. Nowadays, she says that she helps out wherever she is needed in ALANA and helped to put together the fashion show.
Each ALANA subgroup thoroughly conveyed their theme interpretation and acknowledged the wide range of racial and cultural issues that can hinder minorities, as well as highlight and express the beauty in their differences and share this contrast with Oswego State.
"The show was a huge leap forward to attaining cultural diffusion," said the African Student Organization executive board. "Students from all over the world were able to come together and put together an amazing show. It was a great representation of the unity and diversity that is here at Oswego."