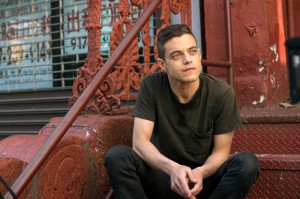 "Mr. Robot" might just be the breakout show you haven't watched yet. The USA original series premiered a full month before its air date on the Internet and other video on demand services, on May 27. From there, the internet exploded with so much positive feedback that the series was renewed for a second season before even hitting TV screens June 24 for the pilot. Not too shabby for a network competing against other primetime channels like HBO and Showtime.
From writer Sam Esmail, meet Elliot, played by Rami Malek ("Need For Speed"), a socially inept, morphine snorting, paranoid outcast with indifference painted on his face and a voice to match. He works as a cybersecurity employee at tech company AllSafe by day, but by night he's a part of a hacktivist group called "Fscociety" a rag-tag justice league, intent on taking down the corrupt organization ruining the world: E Corp. Or, as Elliot likes to call them, "Evil Corp."
The series itself follows Elliot and his reluctant affiliation with the vigilante hackers led by the ambiguous, off-beat Mr. Robot, played by Christian Slater ("Hot Tub Time Machine"). They're a scrappy bunch that sometimes teeter on the edge of seedy. They're the kids your mom told you not to hang out with at recess. However, the interesting thing is that these characters, who are albeit criminals, are heroes. Their mission is contingent upon deleting global debt and fulfilling a redistribution of wealth to the masses. Though their actions may be illegal, they are earnest in their intentions to use their skills for the greater good.
What really draws the viewer in is not only the monotonous drawl of Elliot's voice, but the fact that he is a neurotic, mostly delusional, drug addict, who also happens to be our narrator. He guides viewers, but watching the show the viewer constantly has to beg the question: "Is this even happening?" Elliot is an incredibly intelligent character but let's be honest here- he snorts morphine for breakfast. Reliable narrator? Not so much. But in a lot of ways, that's what keeps the viewers intrigued. Sometimes we have no clue if what we're watching is real or just another feature of Elliot's delusions.
While the show is suspenseful and thrilling to watch, it does challenge the viewer's perception of what our desires are and perhaps what they should be instead. In the pilot episode, while Elliot is speaking with his therapist Krista, played by Gloria Reuben ("Lincoln"), he goes into a long detached monologue about how the things in our world seem 'counterfeit' and how society feels like a 'hoax'. A lot of what the viewer gets out of the show is a almost dark, satirical underlying social commentary on the world we live in today. "Mr. Robot" speaks to our faults as people, but it also gives us the incentive to not negotiate who we are to society's hierarchy. How's that for brain food?
With razor-sharp writing and compelling storytelling, "Mr. Robot" is unparalleled to anything else on television right now. Be apart of the movement Wednesday nights at 10.