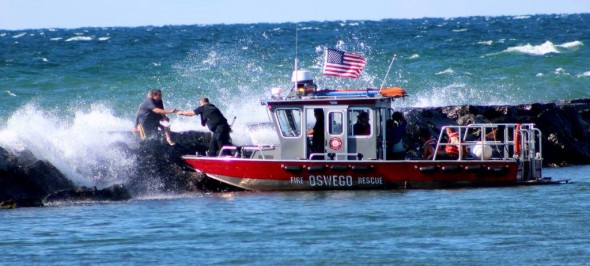 Within the past month, there have been a total of six rescues at the Oswego harbor breakwall.On Aug. 5, Oswego Fire Department's Marine One rescue boat pulled six people to safety after they became stranded due to the exceptionally high Northern winds, which can make it even more treacherous in some already bad spots.
On Aug. 11, the Oswego Fire Department was dispatched at 5:46 p.m. to rescue two people off the breakwall along with a third person who had been hit by a wave and thrown off the breakwall into the water. All were reported safely onboard the rescue boat by 5:54 p.m.
About 24 hours later on Aug. 12 at around 4 in the afternoon, the Marine One rescue boat rescued two more citizens that were knocked into the water by large waves crashing over the breakwall due to high winds.
No one was seriously injured in any of the incidents. Most people's injuries were just minor scrapes, cuts, bruises or sprains.
According to Fire Chief Jeffery McCrobie, the victims were usually set into a panic and they were just wet not really cold.
"Some people who walk out there in January or February and it's a long walk so if you get wet then you get hypothermic, but now victims are just in panic, concerned, and are just happy to get on that boat and to be in a safer spot then where they were," McCrobie said.
Most of the time victims usually have a tough time calling in for help or admitting they are in as much trouble as they are. This summer, most calls came from Good Samaritans that were either at Breitbeck Park or Fort Ontario when they saw people out there on the breakwall and call for help.
"We really appreciate them doing that," McCrobie said.
The Oswego Fire Department has seen an increase of incidents this summer compared to previous summers.
"We think this because of the weather when the people are going out there they aren't giving it much thought and because of the north winds this past month coming over the breakwall, most people this pass month run into problems because of the north winds coming over," McCrobie said.
The first few hundred feet of the breakwall are walkable, yet the terrain changes dramatically the closer one gets to the lighthouse. The stones are sharper and more ragged closer to the lighthouse. People are not up to or expecting what kind of walk it's going to be. People venture out to the lighthouse, and do not expect to eventually hit the more jagged rocks.
"Its not for everybody and it really shouldn't be for anybody, its not what your thinking its going to be," McCrobie said.
McCrobie doesn't recommend going out there at all due to the dangerous conditions. The Oswego West Pierhead Lighthouse is also telling people not to go out on the breakwall because it's dangerous.
"Previously the town has walled it off, to make sure there wasn't a way to get down and onto the breakwall but people kept tearing that down and going on it anyway, technically when people are walking on the breakwall they are trespassing on federal property," said Elizabeth Nielsen, a spokesperson for the West Pierhead Lighthouse.
For those who want to keep trespassing the lighthouse doesn't plan on constructing a safer path for people to travel on the breakwall.