A plan to renovate the first floor of Penfield Library is being finalized this semester.
One of the primary objectives of the project is to move the Writing Center from its third floor office to the ground floor, allowing students to be closer to other resources in the library.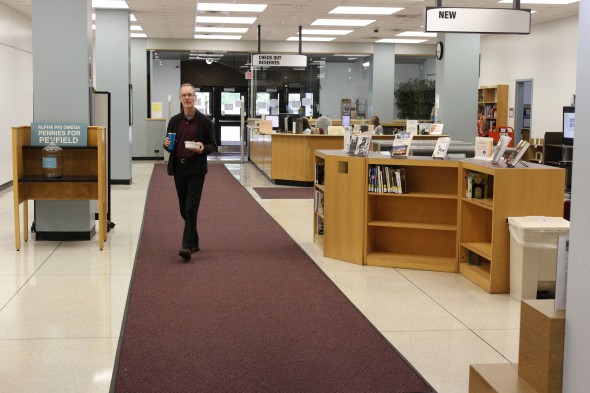 The center will move into part of the existing space that occupies the Reference Room at the back of the first floor. The reference materials available in this room will still continue to exist, as will the large table and seating area for student study. Part of the back wall will be reconstructed as an enclosed space that will become the new Writing Center.
 "The goal is to make the Writing Center more accessible and to have it on the first floor, where it is close to research help and other facilities and technologies," said Penfield Library Director Barbara Shaffer.
Shaffer, who has been Library Director for the past four years, is spearheading this project with the help of fellow colleague and Associate Director/Building Coordinator Marilyn Ochoa, Office of Learning Services Director Catherine Santos, Writing Specialist Steve Smith and Reference Coordinator/Assistant Building Coordinator Chris Hebblethwaite.
The Writing Center itself currently offers hands-on peer tutoring in a confidential environment, where students help other students polish their skills in analyzing, brainstorming and crafting pieces of academic writing.
On top of the center's renovation, the library will receive additional electric ports on desk and table tops, allowing students to use their devices more comfortably and conveniently.
"One thing that is really important to us as we proceed with this project is making sure that there are more outlets and that tables are well placed for students," Shaffer said. "It makes a very nice place for people to meet with a group if working on a group project. We have a lot of facilities here to make that easy."
The final facet of this upcoming project is to improve the overall look of the library, with a special focus on the lobby. The renovation will give a fresh look to the interior space. Shaffer said that she plans to see the addition of new furnishings and the application of bright colors to make the interior a more inviting and attractive environment.
As the project is in its early stages, an exact expenditure amount is hard to calculate. However, library funds and other Oswego State support will finance this venture.
Shaffer hopes that the entire project will be completed for the start of the upcoming spring semester.
Some of the goals of this renovation came from a student focus group that was put together before the beginning of the project. Shaffer is always encouraging of students to voice their concerns and opinions on what else should be improved in Penfield. She wants to make suggestion forms available for students to submit their ideas so this project can truly improve the campus library.