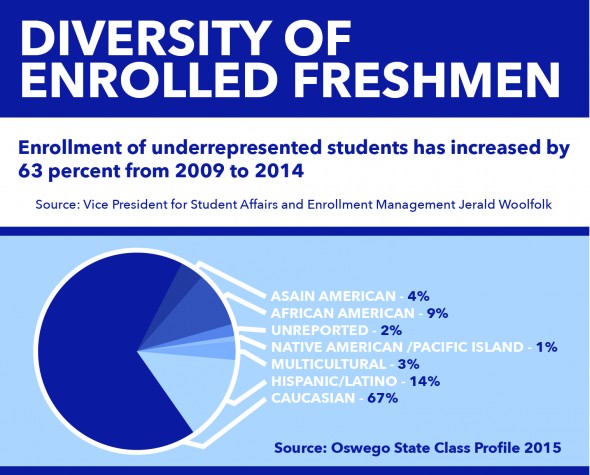 Oswego State's ethnic diversity population has risen from 26 percent to 31 percent within the last year, according to the 2015 Oswego State freshman class profile.
"It is a result of our recruitment in more diverse, populated areas and cities like New York and Washington, D.C.,"said Admissions Office Director Daniel Griffin.
Recently, the college hired full-time recruiter Emmanuel "Manny" Cruz for New York's five boroughs.
Currently, the college is searching for a Chief Diversity and Inclusion Officer (CDOI) who will report racial conflicts to President Deborah Stanley, according to Vice-President for Student Affairs and Enrollment management Jerald Woolfolk.
"The CDOI will be charged with providing oversight to all issues of diversity and ensuring that diversity permeates itself throughout all fibers of the campus community," Woolfolk said.
"The increasing diversity on the Oswego campus is related to what's happening in our state and country," Griffin said. "As new prospective students visit campus, they look around and see students like themselves and it sort of begins to have a cumulative effect."
Woolfolk explained an adverse attitude about race is correlated with a student's cultural awareness.
"We learn from people who have different life journeys than our own including different belief systems and ideologies," Woolfolk said. "Diversity creates curiosity. When meeting students whose life experiences are different from our own, we want to learn more about them, their culture and their way of life."
According to the 2015 class profile, 15 percent of multicultural applicants live in Long Island. In recent years, university recruiters have expanded to out-of-state markets in New Jersey and Connecticut.
"We are continually seeking to enroll the most diverse, talented student body we can in the context of a shrinking, or at least stagnant, population in Upstate and Central New York," Griffin said.
Former Student Association Multicultural Director and current Graduate Assistant for Student Involvement Justin Brantley explained that recruiters are aiding in the growth of minority students.
"Their recruiting has definitely changed over years," Brantley said. "The areas in which they recruit, the tactics they use [and] the opportunities they have for students who may not been able to see Oswego before; they have these opportunities now."
Last semester, Brantley was one of several SA members who lead a inclusion training and open campus discussion on race relations. He explained that diversity is important in expanding the academic landscape.
"It's a culture shock," Brantley said. "Whether you're coming from out of state, the city, [or] in the community at Oswego, it's a mesh of personalities, it's a mesh of cultures. Sometimes people may say things that are offensive and aren't doing it intentionally."
The launch of the "I Am Oz" campaign expanded the visibility of federal cultural heritage months, students, faculty, and minority staff members. The diversity speaker series acknowledged the racial incongruities present in the college community.
"Oswego is committed to increasing the diversity among our faculty and staff as well as increasing campus programs that celebrate the diversity that we enjoy," Woolfolk said.
Woolfolk explained that a gap between race and inclusivity encourages negative stereotypes.
"A homogeneous population thinks alike, believes the same thing, and is oftentimes intolerant to those who think and believe otherwise," Woolfolk said.
Jamie Kraus explained that her classrooms lacked minority students four years ago. In 2012, a campus of 8,117 students, held a meager 20 percent of minority and international undergraduates.
"When I started out as a freshman I would have classes with a very small diversity," said Kraus, an Oswego State senior. "Now half the students are diverse. "
Despite changes to enrollment, during her sophomore year, Kraus witnessed the bullying of a first-year international student.
"I saw a Korean girl getting picked on by three tall, skinny, white girls," Kraus said. "They made fun of her eyes. [They said] she could not see correctly because she had different shaped eyes."
The girls continued to taunt the freshman student for being a non-native speaker.
"Why can't you just speak English," the girls said.  Kraus confronted the three girls about their behavior and they stopped bullying the student.
Although on-campus diversity is at its highest, some students are burdened with the disparities of their culture.
Director of special events for the SA Programing Board Justin Arriaga, a junior, explained collaborations between mainstream and underrepresented organizations are hard to facilitate.
"We have ALANA and other mainstream organizations," Arriaga said. "Unfortunately we don't see them do a lot of collaborations together. "We as the underrepresented must come together to talk about how we can collaborate."
Interm Director of Diversity and Inclusion for SA Nic Fell will hold seminars to improve campus-wide race relations.
"The plan I have for this year is to hold forums and other events where students can talk about their experiences and simply educate people on differences and experiences." Fell said.
Fell explained that an all-inclusive campus is worth fighting for.
"The expansion of diversity on campus will end up being a slow development," Fell said. "Expanding diversity is a long term process, but I think that education is a significant first step to it."
According to Woolfolk, since 2009, enrollment of underrepresented students has increased by 63 percent.