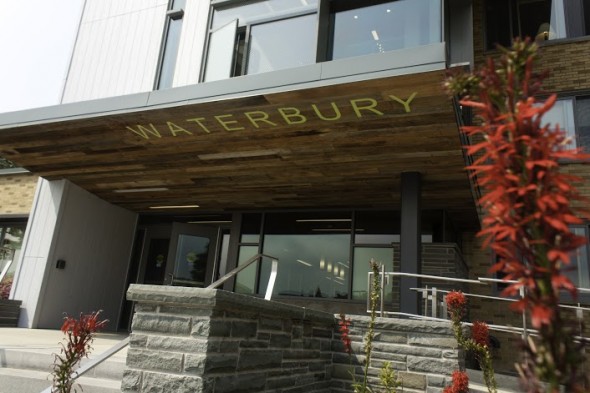 If you search "Waterbury Hall" on the Oswego State website, you'll find the hall, according to students, described as having a friendly and positive atmosphere with a close-knit community, and it seems this environment has been preserved with the new renovations.
A senior, Conor Smith, lived in Waterbury three years ago as a transfer student. He said he made a lot of friends in Waterbury his first year at Oswego and is still friends with most of them today.
Smith said, "I met a lot of nice people, and although it was a run-down building, I had a good time. It was a free flowing place where you ran into the same people over and over again and got a chance to meet them."
However, he now lives in Seneca Hall where he said the atmosphere isn't quite the same.
"It's harder to meet people, a passing 'hello' is really it," Smith said. "People don't really hang out in the lounges in Seneca."
Justie Impolyte, a sophomore, is a current resident of Waterbury Hall and said it is still a friendly place.
"I met a lot of people in my wing and everyone's really friendly," Impolyte said. "All the RA's are nice and everybody smiles."
Although Impolyte has only been in Waterbury a few weeks, she is enjoying it so far and said there is nothing she doesn't like about the renovations. The new bathrooms are one of her favorite features. Now co-ed, there are four individual stalls. Each stall contains a toilet, sink and shower. Two of the four stalls are handicapped accessible, and there is a hand dryer in the common area of the bathroom that wasn't there before.
Richard Kolenda, the assistant vice president for residence life and housing, described more of the changes that came with the renovation.
"We added two lounges on the second and the third floor, a computer lab that features a printer, total wireless connection throughout the building, a gas fire place, a 70-inch TV in the main lounge, and carpeting which wasn't there before," Kolenda said. "Everything has been upgraded."
Kolenda also said that Waterbury now meets the standards to be considered a sustainable building. This means the new mechanical work in the hall was designed to save as much energy as possible. The sinks, toilets and desk lights are motion censored, the heating has been updated and lights in the hallway are on a specific timer to be dimmer or brighter depending on the time of day.
According to Smith, with all the updates, Waterbury could now be considered the nicest dorm to live in on campus.
"I want to get a room there ASAP," Smith said.
Along with the new features, Waterbury still offers all the same services as other dorms on campus, such as renting DVDs, games and sports equipment. But since the front desk area has now been minimized, this is all kept in a separate room behind the front desk so RA's and DA's can still have space when they are on-call.
According to Smith, the renovations are not the only aspect that sets Waterbury Hall apart from other residence halls, "It's a place where people really make it their home away from home."
Next in line for renovations is Scales Hall, which is set for Fall 2016. After that will be Funelle Hall, which has a tentative date for Fall 2018.