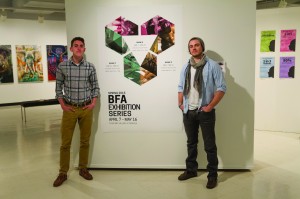 The bachelor of fine arts is one of the most demanding programs on campus to complete. Add in competing for an intercollegiate sports team and the road to graduation grows steeper.
Seniors Nick Montesano, member of men's cross country and track and field, and Mike Wills, defenseman on the men's ice hockey team, have faced this task throughout their time at Oswego State.
"It's been a balance. They're both things I've done my whole time here," Montesano said. "I haven't changed my major. I haven't changed running. Those things have been consistent. This semester, it's been crazy and I have had to make a few sacrifices. But, say I stopped running, I'd need that to stay consistent."
Montesano, finishing his fourth year, and Wills are currently in the midst of B.F.A. show season. A B.F.A. student's show is the equivalent of their final thesis. Montesano's show ran from April 7 to April 15, while Wills' show opened April 19 and closes April 30.
Wills transferred to Oswego State last fall from Merrimack College in order to be challenged and grow as an artist.
"The hockey program was pretty good (at Merrimack College)," Wills said. "But on the downside, the art program failed. It was kind of a hole in the wall. I didn't see myself pushing to be a better artist. I was getting straight A's and the teachers weren't really teaching me anything. So I wanted to also kind of further my career."
Preparation for the shows takes part mostly during the spring semester of a student's senior year. The students must have their work at presentation level before it is shown at their respective exhibitions. They use some work from past classes, but most of the work is completed in their final year of school. In fact, most students are finishing up works and polishing up others during the weeks leading up to their show. Sometimes, students do meet all expected standards and are left out of their show.
"It's not assumed that students are going to be in that exhibition," said Cynthia Clabough, chair of Oswego State's art department. "That's the hard part. There are very few undergraduate degrees where you could do the course work and not get the degree because the thesis isn't done or isn't done to the level faculty are expecting."
This added pressure is on the shoulders of Montesano and Wills. Most senior B.F.A. students are already juggling preparing for their show while completing their exiting portfolios and job hunting for after graduation. The tandem also had to deal with their athletic seasons spanning much of the academic year. Wills and the men's ice hockey team started their season with captain's practices in September and continued on through the NCAA quarterfinals on March 21. Montesano has competed all three seasons between cross country, indoor track and outdoor track.
Wills made the men's ice hockey coaching staff aware of what the year was going to be like from the start. In the spring, he missed practice every Monday and Wednesday, which forced him to put in extra workouts on his own. Yet he still was in the starting line up for most of the second half of the season.
"The communication part was the start in the right direction," said Ed Gosek, men's ice hockey head coach. "His willingness to find other times to come in to keep himself sharp and get enough work in so that he was able to compete at a high level, I think is a credit to him. He made it work."
The schedule gets hectic and is quite a bit different from the workload faced by other students or student-athletes.
"Some guys go to class three hours a day and they have the rest of the day off to do whatever," Wills said. "We're sitting in class for seven or eight hours and it's crazy, because you're jumping from class to running to the rink trying to do a workout or get a skate in, get a shower in and running right back."
Montesano and Wills had no choice but to start working on their shows early. They had to work around scheduling issues as well as traveling on the weekends to competitions and games, which caused them to miss classes and not have weekends to catch up on work.
Wills has a student studio and Montesano has set up a space in his room in order to work late at night and catch up.
"I've seen them come in with bloodshot eyes," Clabough said. "I know they've been up late."
Another wrench thrown into Montesano's preparation for the show was caused by the region's tough early spring weather. The outdoor track and field team's first meet of the season was scheduled for April 4, but anticipated weather conditions forced the meet to be moved to April 2. The new date conflicted with Montesano's dates to install his artwork in preparation for his show.
"I give him credit," Clabough said. "He had it ready to go anyway because that's the kind of planner he is. So he was able to adapt really, really quickly."
Montesano had to work on installing the meet at the University of Rochester and going home for the holiday. He had already printed out a lot of his work and prepared it. The installment process takes roughly four to five hours on average.
"I talked with Stephanie Grimm and I talked with Cynthia," Montesano sad. "I knew I could fit it all in and I did. But there were some points where I didn't know if I was going to be able to go home. I didn't know if I was going to be able to finish installing, but I did and it was extremely stressful."
Stephanie Grimm, cross country's head coach and the track and field team's distance coach, was hired at Oswego State heading into Montesano's freshman year. She has enjoyed seeing the bonds within the Lakers' running community. Many of Montesano's teammates went to see his show.
"One of the things I love about coaching cross and track is that people tend to look at it as an individual sport, just from the time perspective," Grimm said. "But, it really is a family and it is a team sport. They're always supporting Nick in whatever he does, saying, 'Oh Monty. Relax.'"
Clabough is proud of all that both her students have done to succeed throughout this process. They have taken a unique path to the end of their collegiate careers and are being recognized. They have made it work and shown what student-athletes can do.
"We did make an exception for Mike," Calbough said. "We let him put his jersey in it, which I think is a first time we've allowed athletic paraphernalia into a show, even though it doesn't fit his thesis. We thought, 'Well, we should let him do that.' It's a nod to his success. He's our first hockey player to do this well. We're very, very proud of him. We've had a few other track people do as well as Nick, but not quite. He's really upped the bar from what we're going to expect from them."