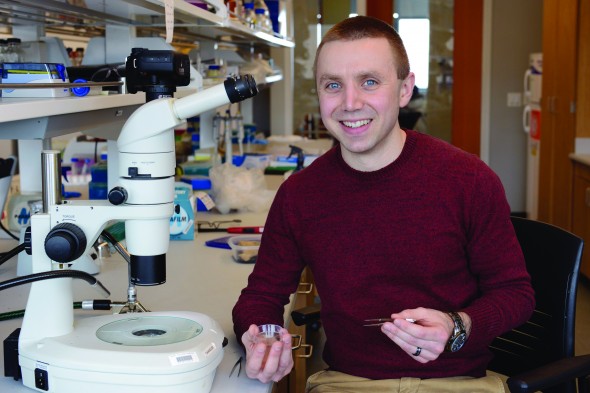 Oswego State's biological sciences faculty member Christopher Chandler has been granted a Faculty Early Career Development (CAREER) Program Award, a prestigious grant from the National Science Foundation that will provide more than $640,000 for his research and teaching over the next five years.
The CAREER award is the foundation's top award for junior faculty who are in a tenure track position. An honor highly sought by junior STEM faculty but granted to few, Chandler's award is one of only 3,214 CAREER awards currently active in the U.S. and stands out as one of the biggest grants won by an Oswego State professor in recent years.
Unlike most grants that focus only on a professor's research, CAREER awards recognize and promote junior faculty in both their roles as teachers and researchers and the integration of these roles. Applicants must outline the ways in which they have excelled in these separate responsibilities and how they have brought them together. They must also present a five-year plan for how the grant can help bolster these roles.
After completing a doctorate at Iowa State University in ecology and evolutionary biology and a postdoctoral research at Michigan State University, Chandler came to Oswego State in 2012. Since then, he has produced a steady number of publications in his field, mentored research students, served on Oswego State's scholarly and creative activities committee and created the current biology capstone, focused on evolutionary biology.
According to Chandler, the CAREER award will allow him to further elevate his work as a teacher.
"These funds will also help create a lot of opportunities for students," Chandler said. "We're collaborating with a lab at the Université de Poitiers in France that's doing related work, and the grant will allow us to go visit and exchange ideas with them. Oswego State students working on the project will even get to do some work over there for part of the summer."
The grant will also fund trips to conferences where students can present their work, as well as fund Chandler's research that produces large sets of data – ample material for students to learn bioinformatics. Bioinformatics, biology research aided by the tools of computer science, engineering and related fields will become a component of the department's research course.
"As a teacher, I really hope to be able to show students that you can do some really cool science when you have interdisciplinary skills," Chandler said. "I hope I can convince more biology and zoology students to take more computer science and math and statistics classes and get students in those fields to think about studying biology and genetics too. "
This emphasis on bioinformatics was one of the strong points of Chandler's CAREER application and one of the main benefits Oswego State will get from the award.  According to Chandler, the opportunities and incentive the CAREER award will enable students to learn these analytic skills and will help equip Oswego State graduates in graduate school and beyond.
Computer science and related disciplines are the cornerstones of many fields within biology, like neuroscience, and increasingly in other fields, including Chandler's. In the past decade or so, students have often specialized solely in a natural science as an undergrad, only to go on to graduate school to find computer science and related disciplines are key drivers within their chosen field. Many graduate students are forced to struggle to learn those skills in graduate school and outsource those components of their work or avoid use of those tools altogether, according to Chandler.
"People with a strong background in biology but who also have skills in bioinformatics and programming and data analysis are going to be in high demand. This grant is going to give students an opportunity to learn these interdisciplinary skills with hands-on work," Chandler said.
Beyond teaching, the CAREER award will help Chandler advance his research in his field.
The grant will fund Chandler's studies on the evolution of sex chromosomes in an entirely new group of species: terrestrial isopods. Some species of isopods change from male to female with the infection of a certain kind of bacteria. Current research suggests their sex chromosomes evolve quickly as a result, creating great conditions to study the evolution of sex chromosomes.
According to Chandler, his research is of key importance in evolutionary genetics.
"Understanding the sex chromosomes in the genes is very important," Chandler said. "From an evolutionary standpoint, we think this is key to understanding how one species may divide into two species."