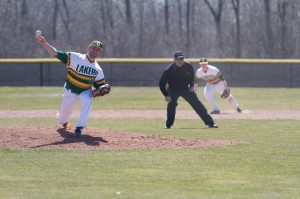 The Oswego State Lakers take on the SUNY Fredonia Blue Devils on Friday in the first of a three-game weekend series from Laker Baseball Field.
The Lakers (20-6, 11-2 SUNYAC) enter the contest on the heels of a 7-0 road win against St. Lawrence University on Wednesday. The victory saw Laker sophomore Charles Arcuri earn his second victory of the season, tossing six one-hit innings for Oswego State. Sophomore Myles Kutscher was a highlight on the offensive end for Oswego State in the game with three runs batted in on two doubles to tie him for the team lead with 29 RBIs.
Reaching the 20-win mark for the fourth straight season, the Lakers return home where they defeated the St. John Fisher Cardinals on Tuesday.
The SUNY Fredonia Blue Devils (9-13, 4-6 SUNYAC) most recently suffered a blowout 12-0 loss against the SUNY Cortland Red Dragons on Tuesday, their fourth consecutive loss. Junior Carl Wolf was on the hill for the Blue Devils in the loss, dropping his second game of the year, allowing five earned runs in two innings. Senior Thomas Morris also allowed four earned runs in relief.
Oswego State has only lost two contests to SUNY Fredonia in the past four seasons, and took two out of three against the Blue Devils in Fredonia last season.
The Lakers will look to gain momentum before they host the Red Dragons next Tuesday, while the Blue Devils continue their road trip with a matchup against the College at Brockport on Tuesday as well.
First pitch is scheduled for 3 p.m on Friday.