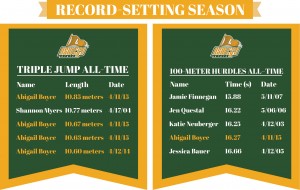 Last weekend, while enduring the cold at Nazareth College's 2015 Roc City Classic, Oswego State sophomore Abigail Boyce etched her name into the Laker record book.
After tying her career best in the 100-meter hurdle earlier in the afternoon, with a first place finishing time of 16.27 seconds, Boyce took her already memorable day to the next level. Boyce set a new school record in the triple jump with a leap of 10.85 meters, breaking a near 11-year-old record set by Shannon Myers.
Her victory in the 100-meter hurdle earlier also was good enough for fourth all-time among Lakers.
While racing in the 100-meter hurdle event, Boyce did not initially realize she was in possession of the lead.
"The first thing to cross my mind was, 'Thank God I finished," Boyce said. "I didn't even realize I was in first place and then when I did, I was really able to just focus on my race. There was a lot of excitement."
Boyce insists the adrenaline and exhilaration from placing first in the hurdles allowed her competitive attitude to elevate and helped her come in first for her second event of the day.
"The weather was bad," Boyce said. "I didn't think I was going to turn in those performances. Once I placed in the hurdles, I was more pumped up for jumping. I couldn't wait to get back out there and try to get a good mark in for the SUNYACs in a couple of weeks."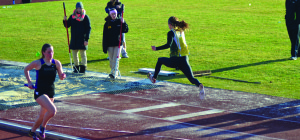 It came as a great surprise to Boyce to learn that she had been named the SUNYAC Female Track Athlete of the Week, for her performances at the Nazareth College Classic.
"I was really surprised," Boyce said. "It is a great honor, but more so now I am really excited to see what else I can do, to get ready for the SUNYACs."
Boyce is always looking to the future and looking to elevate her performance. But, with the sophomore already leaving a legacy at the college, one cannot help but wonder what the next two years will hold for Boyce. However, head coach Derek Rousseau can hardly contain his excitement for what Boyce will do much sooner than that.
"I'm excited to see in a couple of weeks where she is compared to now," Rousseau said. "I'm excited and kind of scared to see just how talented she might become. By the time she is a senior she is going to be way beyond where she is now."
Rousseau had nothing but praise for Boyce and the attitude she brings to the team.
"She is one of those athletes you just dream of working with," Rousseau said. "She's always looking to get better, always looking to tweak something. I am really proud of her, she really put in more work than a lot of other people to get to where she is. Her superior work ethic is the main reason why she has gotten to this level."
Boyce has already made a name for herself within the SUNYAC conference, and if last weekend is any indication, this is only the beginning of what should be a strong Laker career.