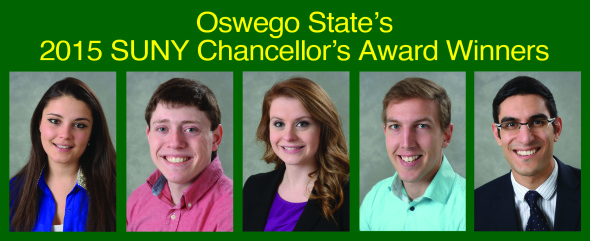 Five Oswego State students received SUNY's highest recognition for excellence last week.
The 2015 SUNY Chancellor's Award for Student Excellence was awarded to Dianora DeMarco, Joshua Drake, Molly Matott, David Owens and Eyub Yegen in a ceremony at the Empire State Plaza in Albany on April 2.
DeMarco is a five-year accounting-MBA major from Bronx, N.Y. and a member of Alpha Epsilon Pi. She is the president of the Student Investment Club, which manages a portfolio of six-figures.
"I watched it grow from $100,000 to, I believe it's at about $135,000 in less than two years," DeMarco said.
DeMarco wrote her undergraduate thesis on the conversions of international accounting standards and American accounting standards and presented it at conferences across the country and in Shanghai, China. Her work is going to be published in the American Journal of Undergraduate Research.
"Anytime I felt like I wanted to do something, Oswego supported me," DeMarco said. "I had great faculty, I had wonderful people who would just hug me everytime I wanted a hug… I was just doing what was put in front of me and people just kept giving me opportunities and I just took them."
DeMarco is also the advertising manager for The Oswegonian.
After graduation in May, DeMarco will be joining the Financial Accounting Standards Board, a private non-profit organization that sets the rules for public accountants in the U.S.
Fulton native Drake became a philanthropic member of the local community when he came to Oswego State. The biology major is president of the Habitat for Humanity Club and volunteered for Mentor Oswego, a program that pairs college students with local high school students.
Drake felt a sense of pride for Oswego State at the award ceremony in Albany.
"There were a lot of very important faces from around the state," Drake said. "The chancellor gave a great keynote speech. Overall, I thought it was a great experience going down, being able to be a part of all that and see everybody, especially people from our school. They showed a slideshow that had some great pictures from when Al Roker came to visit and all sorts of things like that. There was a big sense of SUNY pride and Oswego pride, so I really liked that."
Drake said he is not one to boast about his accomplishments, but thinks it is nice that volunteerism is being recognized on campus.
The senior was accepted to attend SUNY Upstate Medical University where he will study to become a doctor in pediatrics.
Matott, a meteorology major, recently helped Oswego State acquire an industry-standard weather graphic system. She is currently the chief meteorologist at WTOP-10 TV, the student-run television station.
The North Syracuse native was featured on "Wake Up with Al" on The Weather Channel during media summit festivities in October 2014. Matott is also a member of Oswego State's Del Sarte dance club. Out of all the things Matott has done, her time spent as a Laker Leader helped send her on the right track to where she is today.
"I think what really started to put my foot in the door was when I was a Laker Leader my first summer here, because not only did that open up so many connections for me, but that was when I really started to build my confidence and that's when I kind of started to realize the person I wanted to be in college," Matott said. "I wanted to be well-rounded and I wanted to do a lot of different things."
Matott was also involved with the Ontario Winter Lake-effect Systems (OWLeS) project, which examines lake-effect snow around Lake Ontario. She was also a member of a group of students who chased tornadoes in the summer of 2013.
"That's a big thing that Oswego has, that I got to go see weather up close and personal," Matott said. "What was also very cool is that when I did those roles, while I was also enjoying it and learning it, I also took on leadership roles while I did that."
Matott is pursuing a career in broadcast meteorology in the Syracuse area for after graduation and credits Oswego State with her success.
"I think if I didn't go to Oswego, I don't think I would have won the award," Matott said. "Oswego has given me the opportunity to do, literally, a million different things. I was a meteorologist, but I also am a tutor and I worked on my communications… I could do so many different random things that I really enjoyed and intertwined them all."
Owens is earning his BFA in illustration from Cato, N.Y. His collection of paintings titled "Twelve in Oswego: An Artistic Interpretation of Time and Place" was presented at Oswego State's Quest symposium last year and represents the city of Oswego throughout the year.
Owens has done cartoon work for The Oswegonian and had his images featured on the cover of Oswego State's student literary magazine, the Great Lake Review, twice.
The illustrator looks at the recognition as just another stop along the larger journey to his future.
"It's not over either, so many people are like 'oh yeah, you're good.' It was the same feeling in high school when you talk to a valedictorian and it's like, well now you have college," Owens said. "So now it's like, well now you have the real world."
Owens said that his extracurricular work has helped him strengthen his portfolio, something he thinks has helped him gain the recognition from SUNY, but he does not let the praise get to his head.
"When you get something like this you get a lot of recognition from different people and that's nice, but at the same time you can get really proud really fast," Owens said. "Instead of being like, OK they recognized what I did and it's going to help me, I can put it on my resume now, but it doesn't define you in any way. It's about all those things you did that got you the award to begin with."
Owens has a part-time job lined up doing graphic design work in marketing, but is excited to be able to do freelance illustrating for different publications.
Yegen is a dual major in finance and applied mathematical economics from Germany and originally from Turkey. He also has a minor in applied statistics.
"It's an honor to receive that big of a recognition from the chancellor's office," Yegen said. "All of the support that I get from the faculty, it shows you how much of an impact the faculty turns out to be a really significant result at the end of this."
Yegen took classes at Harvard University and the University of California, Los Angeles to help him complete his additional work load. The experience helped him expand his learning.
"When you see that Oswego is also on the same level as Harvard or UCLA, which many people don't know, it's quite fascinating and you say, OK I'm glad to be here," Yegen said. His original plans were to transfer to Cornell, but realized that he would not get the same recognition or relationship with professors at a larger university.
Yegen briefly wrestled for the Lakers his freshman year. He has had multiple research projects published in professional journals with hopes to continue publishing his studies. Yegen said that knowing what he wanted to do in the future helped him focus on getting there, leading to his success.
Yegen will be starting his doctorate in finance at the University of Toronto at the Rotman School of Management, the No. 6 program of its kind in the world, according to the Financial Times. He hopes to continue on in a career in academia and is appreciative of the honor.
"It's not just getting the awards, getting the recognition, but it's more about being recognized as an individual who is appreciated, who is recognized for things he or she is doing and that I think is the beauty of Oswego," Yegen said.