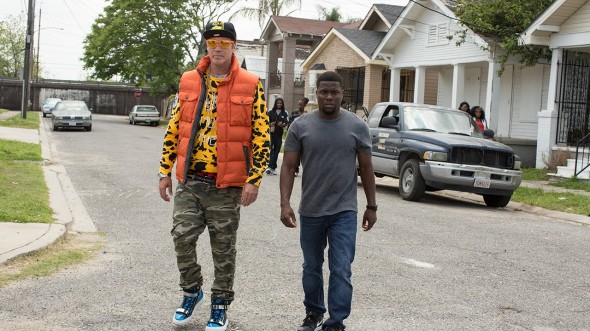 "Get Hard." Sounds dirty right? Well it is. This raunchy comedy starring Will Ferrell ("The Lego Movie") and Kevin Hart ("The Wedding Ringer") is a melting pot of vulgarity and race-based jokes, including the reoccurring "get hard" joke itself. No stone is left unturned in regards to how far these two comedic icons will push each other.
Ferrell plays white-collar James King, a stock trader from Beverly Hills engaged to his boss' daughter. Incredibly fiscally competent, King makes his company millions in revenue on a daily basis. However, what he possesses in monetary intelligence is undercut by his pure ignorance of common social behavior. He portrays the stereotypical privileged white guy; uncultured with respect to other ethnic groups and scared to death of them. Hart plays an underprivileged family man in the ghetto struggling to make enough money for his family, yet doubling as a prison-hardened criminal.
The movie begins with Ferrell on top of the world: a huge house, a hot wife and a promotion to be partner at the company firm. Of course, everything in his world is as stereotypical as it gets. His soon-to-be wife is a gold-digging succubus, his grounds crew are all Latin-American and his personal car-washer Darnell, played by Hart, is in need of some serious money to get him and his family out of their questionable neighborhood. Unbeknownst to King, however, is the scandal that will play out with him at the epicenter.
King is framed for embezzling millions of dollars from clients by way of fraudulent transaction documents. In a failed attempt to plead innocent to the court, King gets sentenced to 10 years in a maximum security prison: San Quentin. Known for excessive violence and other "typical prison activities," San Quentin poses a massive threat to the likes of King. In order to survive the hardships ahead of him and thinking that one in three black men have been in prison, King begs Darnell to get him prepared in just 30 days. Seeing his chance to make the money he needs; Darnell, who has never even received a parking ticket, agrees to help King.
For what feels like an eternity, King and Darnell go through a series of escapades in an effort to toughen King up. These efforts involve getting beaten up, turning King's mansion into a prison, getting stabbed in the head and "kiestering." Guest stars include a gang-banging T.I., otherwise known as Darnell's cousin Russell, and John Mayer as himself. Jimmy Fallon appears briefly to hear Mayer's critique of King.
This particular flick has a way of holding its audience's attention, which is hard to do for a comedy. Ferrell and Hart have such a good working chemistry that their diverse characters mesh and complement each other throughout the entire film. Ferrell's character is emotionally unstable and ignorantly humorous. Hart's character is firm in his purpose with a resonance of undeserved confidence. They bounce off  each other in a style that clues in the audience that they have a history, yet that could also be perceived as pure character chemistry. Needless to say both actors are extremely talented in their profession, but it is refreshing to watch two that can work so well with each other. It gives the movie a whole new sense of appreciation, if you can look past everything else.
The movie may have left some laughing out loud, and others scarred for life. With such explicit scenes as male-on-male fellatio, the faint of heart should choose to avoid this film. For those who do choose to see the movie, be prepared for some inappropriate jokes and hidden faces. Not a movie for your grandmother.