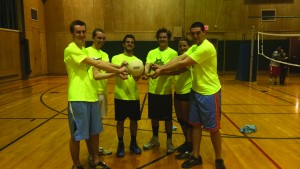 The volleyball tournament has come to an end as the men's and Co-Rec finals were played this past week.
In the men's volleyball tournament, Braydens Rehab Counselors and Big Johnson Alum faced off in the finals. The teams were evenly matched as Braydens Rehab Counselors had a record of 17-4, while Big Johnson Alum had a record of 16-5.
During the regular season when the two teams faced off, Braydens Rehab Counselors won the match two sets to one.
The first set of the finals was close, but Big Johnson Alum was able to beat out Braydens Rehab Counselors, 25-23. During the second set, Big Johnson Alum had an easier time and comfortably won, 25-17. In the end, Big Johnson Alum were able to come out of the finals with a two-sets-to-none victory and the title.
The team worked well together, which was a big part of their success.
"As a team we have excellent chemistry together and it helped a lot during playoffs. It felt great to win and repeat our championship from the outdoor volleyball league in the fall. It is upsetting that some of our members will not be returning due to graduation," said Jake Lawley, captain of Big Johnson Alum.
In the Co-Rec finals, it was Corec 2015 Champions versus Beavis & Bump-Head. The Corec 2015 Champions came into the game as the favorite with a record of 18-3, while Beavis & Bump-Head only had a record of 13-8.
Despite being the underdogs, Beavis & Bump-Head immediately got off to a strong start. They scored 10 points before Corec 2015 Champions were even able to score one. Corec 2015 Champions come back to total 18 points in the frame, but were not able to win the first set as Beavis & Bump-Head came out on top, 25-18.
The second set started out very close, and the lead kept switching between teams. However, Beavis & Bump-Head were once again able to top Corec 2015 Champions, 25-17, for the win and the championship title T-shirt.
In other intramurals news, the soccer league ends on Sunday, with the Co-Rec final at 8 p.m. and the men's final at 9 p.m. Both games will  be in Swetman Gym. The dodgeball and handball leagues are continuing their seasons and in the upcoming weeks the softball and 7 v. 7 flag football tournaments will take place.