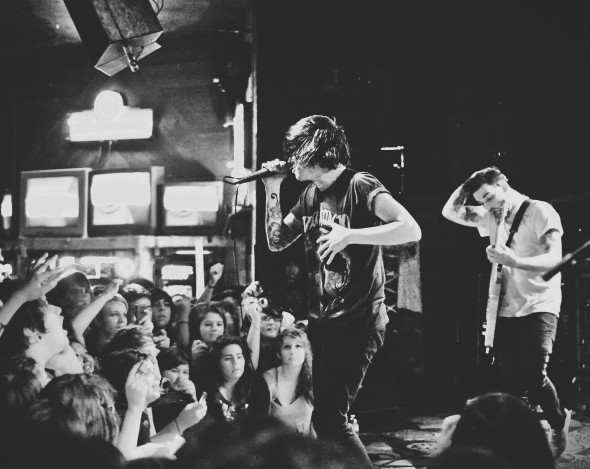 Expanding their genre but still remaining themselves, Sleeping With Sirens are back. (Photo provided by commons.wikimedia.org)
After some confusion surrounding the rumors of Sleeping with Sirens' eventual breakup beginning before Warped Tour 2013, clarity has finally arrived. What people thought was the band's breaking-up was actually just the departure of guitarist Jesse Lawson.
Lawson decided he would rather be spending time with his family and furthering his own music career and parted ways with the band on good terms. He released a letter on the group's official Facebook page, stating that, "There are no hard feelings and no hate behind it. It's time for me to focus on family and my next musical venture."
Former D.R.U.G.S. guitarist Nick Martin has picked up the slack left by Lawson, and together with lead vocalist Kellin Quinn and other band members Jake Fowler, Justin Hills and Gabe Barham, Sleeping with Sirens has released their newest album, "Madness."
Together with Epitaph Records and producer John Feldmann, who has worked with Good Charlotte and Panic! At The Disco, Sleeping with Sirens has been ushered into a new era of musical prowess.
"Madness," released March 17, is the spawn of high tempos, melodic rifts and subduing vocals.We finally get to hear the entirety of his range. However, he brings a more melodic harmony to his songs. Quinn uses his accustomed high-pitched vocals, but he has unmistakably brought his pitch level down and we really get to hear his ability to hit the softer and lower notes.  "November" is an impeccable example of his finely tuned notes in balanced harmony. Slow moving and soft in nature with ranging vocals, the song would probably ring true to Bruno Mars fans.
In fact, the majority of the album, including the title song "Madness," strays from the band's norm. No hard screaming or heavy break-downs, just modernized rock with a smidgen of techno beats scattered about. However, there were two songs that rang truer to Sleeping with Sirens' aggressive style. "Kick Me" and "We Like it Loud" both keep pace with tracks from older albums such as "With Ears To See And Eyes To Hear." Staying close to home with the genre, both songs pick up the pace and deliver some head-banging gusto. Granted, neither are even remotely in the same division as songs like "The Bomb Dot Com V2.0," but in comparison to,  say, "Gold," they'll do the trick for all the metal-heads out there.
The group continues to mesh even with the absence of Lawson. They treat one another as brothers and their music reflects such cohesion. "We're a very tight- knit group," Barham said in an interview. "We have the same ideas about everything, as far as the direction that we're going."
Especially after their last album, "Feel," a follow-up would have been thought to be tough to do. "Feel" was full of sentimentality and feel-good songs with guest appearances such as Machine Gun Kelly. What their millions of fans got with "Madness" was a lot more than just good feelings however. The tracks on the album each have a deeper meaning, choreographed by Quinn and the rest of the group. According to an interview with the band, "Kick Me" profoundly instills bravery in the bullied while "Madness" may very well be a love song in essence.
Quinn explained the album's worthwhile ability to be listened to in a constant flow of musical grace. "Every song has a place, a home, and feels like it belongs on the same album with the other songs," he said in an interview.
With 15 listed tracks on the album, including "Kick Me" which hit the number one spot on Billboard's Top 140 Trending Chart, "Madness" is a musical force to be reckoned within the industry.