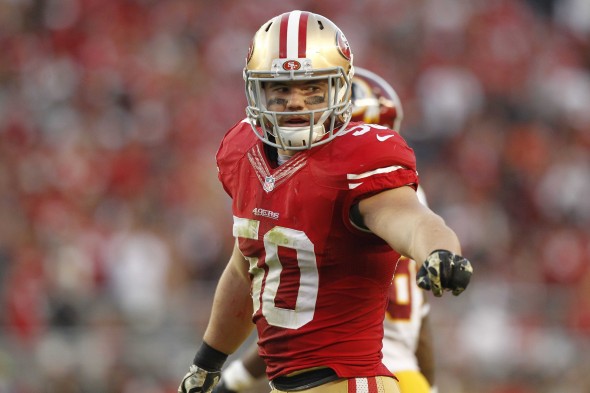 The NFL has had an interesting offseason with its owners meetings and proposed rule changes, but there is something that has seemed to go under the radar for most fans. Several players have decided to hang up their cleats before offseason team activities. It is not that they retired that matters; it is the age at which they retired.
One of the big names that left the NFL was San Francisco 49ers linebacker Patrick Willis, who retired at the age of 30, but was not the only one. Another big name that retired was Tennessee Titans quarterback Jake Locker, who is 26 years old. Former Pittsburgh Steeler Jason Worilds also called it quits at the age of 27. However, the biggest reveal was that Chris Borland ended his career at the young age of 24.
Despite being a rookie, Borland retired and cited potential effects of long-term head injuries as his reason for bowing out of the league. After a successful rookie season, where he recorded 108 tackles Borland believed the long-term risk was not worth the reward after talking to friends, family, teammates and medical professionals, according to USA Today. His decision is an understandable one but, in the end this story will be buried once the season gets underway.
This decision is uncommon for a player who worked so hard to get a roster spot and only played eight games but it will not change how people think about football in the near future and it will not deter anyone playing in Pop Warner leagues.
At youth levels, young players will still want to learn how to play the game. It will be up to the coaches and parents to teach them how to tackle properly. Concussions result from a blow to the head, but the style of play today makes it fairly easy to get a concussion. Players are faster and built bigger than players of years past, so big hits are more common. Proper technique is the key to prolonging a career. All players want to see themselves playing college football and become a starter in the NFL; one retirement is not going to change that.
Injuries will still occur, but it is always a question of where the injuries will occur. The NFL has had preventative measures in place the past few years to penalize helmet-to-helmet hits and levy hefty fines against players, yet they continue because players duck into hits unintentionally. Once you take the chest area out of the equation, players will start going for the legs. It boils down to players getting concussions, severe leg injuries, like a torn ACL, or something in between those two extremes.