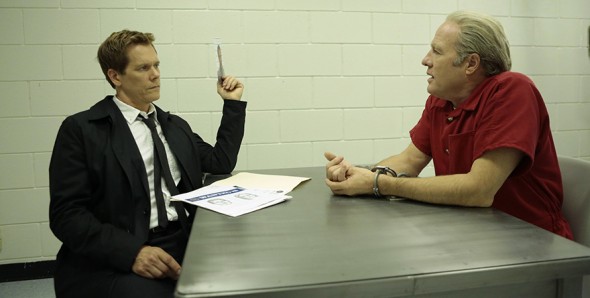 Just as it seemed all had been solved at the end of season two of "The Following," season three continues with the same action-packed drama that draws the continuous eyes of America.
After FBI Agent Ryan Hardy, played by Kevin Bacon ("X-Men: First Class"), finally locked up Joe Carroll, James Purefoy ("John Carter") to what seemed to be the end of their twisted, yet almost friendship-like at one point, relationship. Hardy had been chasing after Carroll and his followers for months on end, after Carroll escaped from prison after serving for multiple murders.
While locked up, Carroll had numerous people and former students visit him where he convinced them to join his cult, which was derived from the work of Edgar Allan Poe, and Carroll uses Poe's image of death as an art and brings it to real life, as his murders are often very planned out and artistic, representing the twisted beauty of the crimes.
Throughout numerous plot twists, deaths and multiple near-death experiences, Hardy and his sidekick Agent Mike Weston, played by Shawn Ashmore (X-Men: Days of Future Past"), are now having to deal with the aftermath of Carroll's arrest, his followers that continue to haunt the FBI and another cult that is led by Mark Underwood, whose mother was affiliated with Carroll.
At the end of season one, Hardy tracked and found Carroll in a boathouse and started a fire that blew up the house, and thought he had killed Carroll. However, Carroll escaped and used his twin brother's DNA to cover up his escape, and went undercover until his existence was made public.
Hardy and Weston are the main focal points of the show, and are the top two agents and sources on the job. Both agents were joined in season two by Hardy's niece, Max, who also dated Agent Weston at one point during the show.
One of the main characters, although she has yet to appear in season three, is Claire Matthews, Carroll's ex-wife. One of Carroll's followers, Emma Hill, was the babysitter of Matthews' and Carroll's son, Joey, and abducted him to bring him to Carroll after he escaped.
Matthews and Hardy also had a relationship before Carroll's escape from prison, and in season two they deal with having to try and find Joey, while also dealing with the personal issues they've had in the past.
Bacon only adds another brilliant performance to his resume. It looks as if he hasn't aged since "Footloose" and brings a very serious tone to his character, one that has struggled with an alcohol addiction, a heart problem and the mental fortitude of doing the job that's at hand.
The overall acting for all characters is above average. Hardy does what he has to do for his job, but sometimes steers into a different path and will often bend the rules to get what he wants. The actors that portray Carroll's followers combine the task of living their everyday life as a "normal" person and the convoluted second-life of murders and cults.
The producers and writers of the show said they plan on focusing the third season more on the psychology of the characters, and how it impacts each person in their life. Hardy and his agents continue the struggle of trying to wipe out the cult, while the remaining leaders of the cult have to remain hidden and plan out each attack, without the guidance of Carroll.
The first episode premiered on FOX on March 2, and runs weekly every Monday night at 9 p.m.