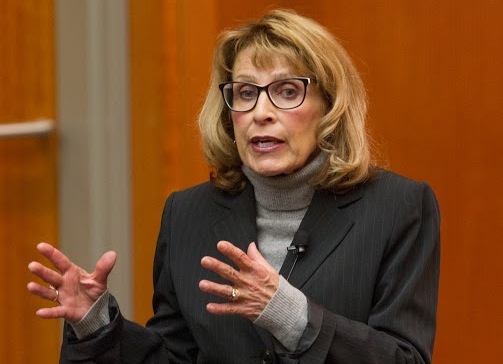 Last Monday night in the Marano Campus Center Auditorium, Oswego State President Deborah Stanley hosted her first "Conversation with President Stanley," which lasted just over an hour-and-a-half.
"It's important to hear the voices of the students directly," Stanley said. "We give students a lot of ways to give feedback, but a direct student-to-administrator conversation, there's nothing like it."
Present with Stanley were many of her colleagues, including the president's council.
Students who attended were a mixture of upper and lower classmen, and they asked a variety of questions that had to do with many on-campus events.
One of the main topics discussed was the spring concert this year, and the university's attempt to try and strip away the notorious culture of Bridge Street Run. After last year's chaos that ensued in the town of Oswego, including multiple injuries, 27 arrests and three Oswego State student heroin overdoses leading to one death, the Oswego Common Council voted to ban Bridge Street Run for 2015.
"The Bridge Street Run culture we don't want that on campus," Stanley said.
Stanley continued to say that she wanted to replace the bar crawl tradition with a real experience for all students, and not just have an annual drinking activity.
That's why this year is the first implementation of an annual OzFest, where the Student Association will provide a dayfull of activities and a concert for students, to draw attention away from Bridge Street Run.
Despite the $45 ticket for the concert, before spring break, SA President Tucker Sholtes said he did a lot of research to determine a fair price for the students. He said $45 would be the average price of a ticket for one of the guests, and it wouldn't be a very good seat. He said for all four acts individually, the price would be between 180 to $230, so he felt the students of Oswego State were receiving a very good deal.
"Students selected the artists," Sholtes said. "Over 2,300 students completed the survey."
That answer was in response to a question about choosing the artist and appeasing to all students' preferences.
Sholtes mentioned that throughout the day there would be local acts of country and rock music to ensure diversity trough all genres.
Another important topic that was brought up was raising awareness for sexual assault on campus.
"We have done more preventative awareness raising," said Lisa Evaneski, student conduct & compliance director and Title IX coordinator said.  "We know, nationally, people are underreporting, and we want to create a culture of reporting it. We're putting the policy out there, and people are starting to notice. You can't just say it was a misunderstanding."
Evaneski and Stanley both talked about the recent "Yes Means Yes" campaign, rather than the popular slogan "no means no" for sexual assault. This slogan requires both parties to be "affirmative, unambigious and in conscious decision."
Evaneski also touched on how she's beginning to teach younger people about awareness.
"I've recently been training for four school systems in the Oswego County, because they are also supposed to follow Title IX and we're struggling because we're dealing with a population that can't give consent," Evaneski said.
Near the end of the meeting, Stanley alluded to future construction on Penfield Library.
"Next year, we're devoting about $300,000 to get the design in place," Stanley said. "We'll then be putting those ideas into the hand of an architect, who will tell us what we can and cannot do."
Stanley then said the construction of Penfield Library would occur in 2017.
As for these "Conversations with President Stanley," she said she hopes to do one to two every semester.
"I don't think I'll get another one in this semester, but I'll certainly get one in the beginning of fall, around October after people have gotten their feet on the ground," Stanley said.
Correction: The original article said that three students died as a result of heroin overdoses. There was three overdoses, which resulted in one death.