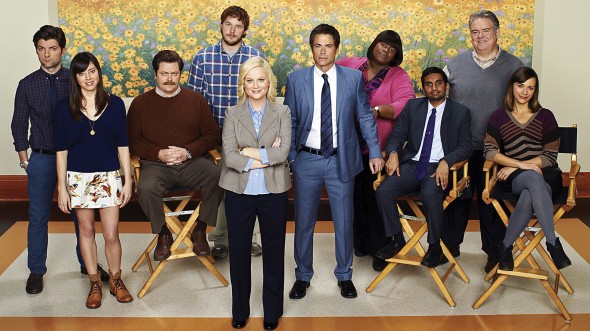 After seven seasons on the air, "Parks and Recreation" took its final bow on Feb. 25.
It was originally part of NBC's Thursday night comedy lineup and remained on the bubble of cancellation for most of its seven years.
Believing that season six would be their last, show runner Michael Schur brought the show to a satisfying conclusion that flashed forward in time to show where main characters Leslie Knope, played by Amy Poehler ("They Came Together"), and Ben Wyatt, played by Adam Scott ("Hot Tub Time Machine 2"), would end up three years in the future. So when the show was picked up for one last season, it continued from that future point, turning "Parks and Recreation" into a quasi science-fiction show.
The final season was a beautiful and satisfying conclusion to the show. It brought each of its characters to a logical and exciting place. It gave each character time to shine while also letting side characters come back and take a final bow. "Parks and Recreation" had a rich cast of interesting people that lived in Pawnee, Ind., and it was only fitting that a lot of them got a chance to come back.
This season had some of the show's best episodes, or at least episodes that could rival the show at its height. "Leslie and Ron," "Donna and Joe" and "The Johnny Karate Super Awesome Musical Explosion Show" were all standouts of the season. "Leslie and Ron" gave the two stars of the show, Poehler and Nick Offerman ("22 Jump Street"), an episode almost completely focusing on just their two characters locked in a room together. It was emotional and funny with Poehler and Offerman both giving incredible performances.
"Donna and Joe" put the focus on Donna, played by the hilarious Retta, ("Sex Ed"), who started the show as a background character with one line, but quickly became the show's most intriguing character. It gave the entire cast a chance to be involved in one single plot of Donna's wedding.
"The Johnny Karate Super Awesome Musical Explosion show" was a great break from the usual form of the show. The entire episode took place within Andy Dwyer's (Chris Pratt, "Guardians of the Galaxy") kid show. Even though the show was fun and silly, it also added emotional weight because it was Andy's last show as Johnny Karate.
Of course the show's finale, "One Last Ride," was a spectacular end to the show and the characters we've grown to love. Structured around Leslie's goal to do one last job at the Parks and Recreation department, she gets the group together to fix a swing. This lends itself nicely to giving Leslie a moment to say goodbye to each character. As they share a moment, the audience gets to see a flashforward of where that character will end up.
While the last episode might not have been big on the laughs, it still delivered quite a few and had enough heart to make up for it. It could make you tear up and then immediately catch you off guard with a laugh. Each character ended up in a place that made sense and therefore felt earned. They showed characters such as Aziz Ansari's ("This is The End") Tom Haverford stumble before getting back up on their feet.
The entire last season of "Parks and Recreation" was just an embarrassment of riches getting to spend a final 13 episodes with these characters. It's a shame to say goodbye to one of the best comedy casts on television.  The cast was so unique and perfect without a weak actor in the bunch.
Still, the finale gave us the best way to say that farewell to this show, even if most of us will miss getting to see Ron Swanson and his mustache on our television screens.
The finale sent off these characters in an amazingly heartfelt way that was completely satisfying to its fans. Goodbye, Parks and Recreation, you're 5,000 candles in the wind!