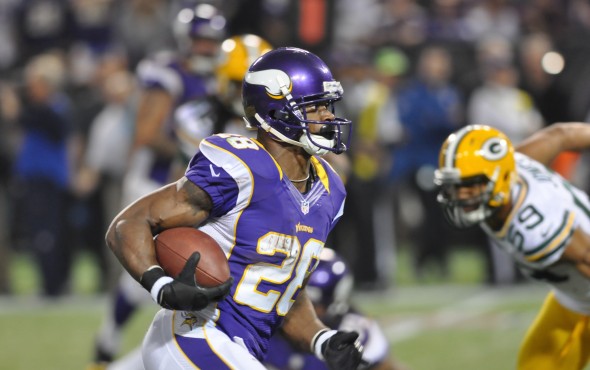 Adrian Peterson may now be reinstated quicker than expected because, according to ESPN writer Ben Goessling, U.S. District Judge David Doty has overruled the rejection of appeal for Peterson implemented by NFL arbitrator Harold Henderson.
The NFL plans to appeal Doty's decision, but for now, Peterson is on NFL Commissioner Roger Goodell's exempt list. Peterson is not fully reinstated yet, but he is allowed to talk with teams and conduct trade talk and contract negotiations. The NFL's initial suspension for Peterson was valid until at least April 15 of this year.
Peterson did a horrible thing. I don't buy into the agenda that he was merely disciplining his child. He went too far and the pictures of his four-year-old son that TMZ released were disturbing. No child should be covered in bruises brought on by a person who is supposed to protect him.
Being unable to play after the season opener of the 2014 NFL season was a fair punishment. The punishment may have been a reactionary public relations move after the media scrutiny brought on by the League's handling of the Ray Rice domestic violence incident. Some viewed it as too harsh, however, I tend to not have that much sympathy for child abusers.
Ray Rice was also reinstated in December, according to NFL insider Adam Schefter. The NFL undeniably mishandled the discipline of Rice. Rice was initially suspended for the first two games of the 2014 NFL season after admitting to knocking his wife unconscious in a hotel elevator. After TMZ obtained and publicly released the surveillance video tape of Rice knocking out his now-wife Janay the NFL suspended Rice indefinitely. The NFL subsequently instilled a league policy where domestic violence offenses result in a six-game suspension for a first offense and a lifetime ban for a second.
I don't think six games is long enough. I was fine with both of them being out of the league for a year. The NFL is going to need to be consistent if it wants to redeem its broken image. Handing out reactionary punishments that don't fit any sort of quota makes the league and Goodell look like they're just making up the rules as they go. Cleveland Browns wide receiver Josh Gordon was suspended 10 games last season for smoking marijuana and will be suspended the entire 2015 season for having alcohol in his system, according to NFL.com writer Chris Wesseling. I'm not sympathizing with Gordon. He broke rules and should be punished, maybe not to the extent that he was though.
However, in theory the NFL has set a precedent where physically harming a supposed loved one is not as severe as smoking pot. I say in theory because neither Peterson nor Rice were held to the six game suspension. The League office reeks of incompetence.
If the NFL's policy for domestic violence offenses are year long suspensions, we would not have people fighting for the "mistreatment" of wife beaters and child abusers.