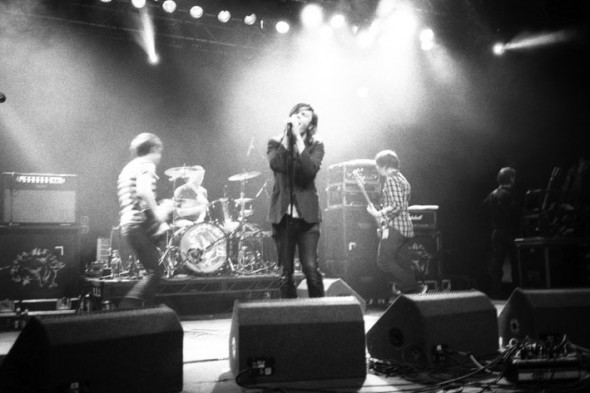 Scottish indie-rock group, Idlewild, has released their latest album "Everything Ever Written" after a three-year hiatus.
Formed in 1995, Idlewild's members are lead vocalist Roddy Woomble, guitarist Rod Jones, drummer Colin Newton, bassist Andrew Mitchell and keyboardist Luciano Rossi.
Their latest album, "Everything Ever Written," is the band's seventh full-length studio album and was released on Feb. 16. The entirety of the album was produced by Jones. All songs on the album are written by Jones and Woomble.
"Really it's about a collective of musicians rediscovering making music together and exchanging ideas. This is reflected in the diversity and experimental nature of the album," Jones said in a recent interview with contactmusic.com. "Lyrically, I know Roddy is purposely vague so as to let the listener draw their own conclusions."
The first song and single off the album, "Collect Yourself," is a fantastic opening number. The first minute is completely instrumental and serves as a powerful introduction to the album. Throughout the song, there is a guitar riff that adds a great touch to its overall quality and adds an offbeat feel and texture to the song.
"All Things Different" is a different piece. In the beginning of the song, a trumpet plays an interesting tune that is rapid and very broken up. The trumpet can be found in a few more places in the song. The beginning has a jazzy feel to it with the trumpet, slow drum beat and the piano. "All Things Different" is one of the calmer and more soothing songs on the album.
"Radium Girl" begins with a sweet keyboard piece that sounds like someone is meant to walk down the aisle to it. This keyboard piece can be found throughout the song in the background. The lyrics are slow and the way Idlewild sings "oh oh oh ah" right before the chorus make it sound reminiscent of pop-rock tricksters OK Go. Toward the end, there is a calm bass and guitar duet that showcases the beauty of both instruments.
Overall, the album sounds all over the place with its genres. It's a mix of alternative, folk, indie and rock. But that's the point, according to Jones.
"I don't think [the genre] really exists but I like the idea of 'Hebridean Psychedelia,'" Jones said.
All of the songs are highly unique yet come together to create one cohesive album. Their lyrics, vocals and instrumentals sound reminiscent of American rock legends, R.E.M.
"I think for us it's solely about making some great music," Jones said. "We feel like a new and energized band and we have only just scratched the surface of what we can do together in this incarnation of the group."