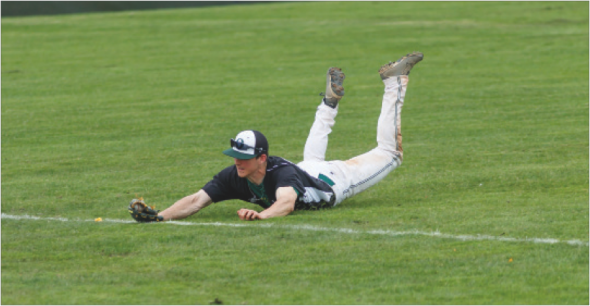 As the Oswego State baseball team heads into its non-conference games in a warmer climate, it has its eyes set on postseason success.
The magic number the Lakers have set for themselves is 35 wins on the season, which left room for five losses until two games against Wesley College, scheduled for Feb. 28, were canceled.
"Our goal is to win 35 games this year," captain infielder Brian Hamilton said. "We want to be 35-5 and I know that's a lot, especially after going 21-13 last year, but we have a different team this year. We have a lot more depth."
Head coach Scott Landers said the 35-win goal is just a number, but something he thinks his team can reach.
"I think we do have the talent to get to that number," Landers said. "We have a tough schedule and I have a lot of respect for the teams we play. We put together a strong schedule and I think if we come out, physically we're talented enough, we just need to come out mentally, which I don't think we were very good with last year."
The Lakers trip to Salisbury, Md. to take on the No. 5 Salisbury University Sea Gulls on March 1 for a doubleheader is postponed. The team's season now officially starts on March 7 at Manhattanville College. They will also face No. 4 SUNY Cortland in three games this season.
Senior outfielder Dan Saccocio thinks his team is ready to get the season started.
"I think we're going into this game prepared," Saccocio said. "We've put in the work for a good solid month now and I think, as a team, we're driven. We've built a culture and we pride ourselves  about Oswego baseball and we're ready to roll."
The Lakers posted a program-best record of 27-15 in 2013 and a record of 21-13 in 2014. That dip in wins has left a chip on the shoulders of the Lakers, who have not won a SUNYAC Championship since 1996.
"We have a lot to prove," Saccocio said. "No one is expecting anything from us, but I think that's the culture that we've built. We pride ourselves on playing the best baseball we can play and not worrying about the opponent, and I think we have the team that can do something this year."
Brian Hamilton agrees with Saccocio, hoping that the team proves something in 2015.
"I think we really need to focus most on just proving ourselves," Brian Hamilton said. "Recently, I know two years ago we were 27-15, that's good, but we still didn't make regionals. Last year, we were 21-13, which are good records, but we still didn't prove anything, we didn't win SUNYACs so I think this year our main focus is just proving ourselves and trying to win SUNYACs, but more importantly making it to regionals and moving on to the world series."
Brian Hamilton missed the 2014 season after being injured in a car accident during the summer of 2013. In 2013, Brian Hamilton drove in 26 runs with a .345 batting average. His younger brother, Eric Hamilton, also an infielder, enters his second season with the team after a 2014 campaign that saw him playing in 31 games with a .333 batting average.
Last season, the Lakers only played three home games due to weather and its impact on the fields. This is something Landers said he is preparing his team to take on mentally.
"We've talked about getting ready to play every day until we're canceled, but we have to be ready to play whether that's in New Jersey or that's in Maryland, Florida or that's here," Landers said. "When the snow melts we're ready to go and we can't control that."
According to Brian Hamilton, Oswego State has been preparing for the upcoming season for about a month now with a strict workout regimen.
"As a team, we did our lifting program, coach gave us a lifting program, we were doing speed and agility twice a week with the track coach as well as yoga twice a week," Brian Hamilton said.
The captain added that the team would swim Friday mornings at 8 a.m. and despite the current weather conditions in Oswego, the team has been able to prepare to a certain extent in Romney Field House.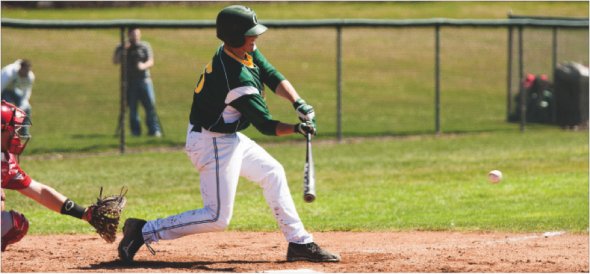 "There's nothing we can't do in Romney that we can't do outside, other than take fly balls as outfielders and pop ups are really the only things. We're doing everything else we can," Brian Hamilton said. "Infielders are getting all their work in, outfielders are getting some work in and we're hitting live and stuff like that."
The Lakers add eight freshmen and two transfer students to their roster this year. The added depth is not something Saccocio is worried about.
Landers said he is expecting his team to be a group of leaders and that the new players know their roles on the squad. He added that the team chemistry has improved as well. Meanwhile, his players want to step up for Landers.
"He's done a great job turning this program around, but in reality, we haven't done anything yet," Brian Hamilton said. "We've just won more games than we did in the past, we haven't won anything; no SUNYAC, we haven't even made it to regionals yet."
Saccocio has the same expectations for his teammates.
"Coach has been here, this is his fourth year now, we want to win this for him," Saccocio said. "He's put in the work, he's put in the time, he's recruited all of us and now it's time for us to execute for him."
It is clear that there is one goal for the Lakers and that is making a postseason run.
"Our motto is get 1 percent better from the day before and we have a good mindset," Landers said. "The guys have been focused, they've worked hard in the weight room, they've worked hard in the field house practicing. My expectations, as well as the guys', are very high. The postseason, without a question, for us is a goal, we want to get to the national level, which we haven't been there in a long, long time."
Brian Hamilton expects even more, looking to make a run for the NCAA Div. III College World Series.
"If we don't make regionals, there are  going to be some serious problems," Brian Hamilton said. "That would be really frustrating. I think looking ahead toward the year, there's no doubt in my mind we'll be in the NCAA tournament with a chance. I think we have a serious chance to contend for the world series."