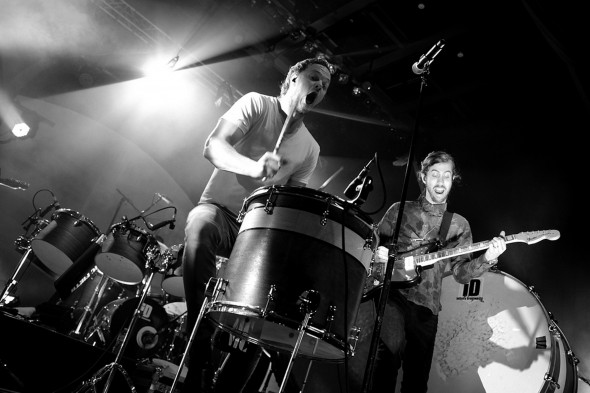 Breakout alternative rock band Imagine Dragons just released their second studio album, "Smoke + Mirrors," on Tuesday.  The album was self-produced with the help of English hip-hop producer, Alex Da Kid. Most of the songs are written by the members of the band.
After their successful first album, "Night Visions," Imagine Dragons took to the road and spent most of 2013 touring. Known for singles "It's Time" and "Radioactive," Imagine Dragons have won many awards for the success of "Night Visions," which has sold over 2 million copies in the U.S. and has gone platinum in 12 countries. The members of Imagine Dragons are lead vocalist Dan Reynolds, guitarist Wayne 'Wing' Sermon, bassist Ben McKee and drummer Daniel Platzman.
"Shots" is the first track on the album and the third single off the album. The instrumentals are very upbeat compared to the song's lyrics, which are dark and somber. The lyrics sound as if it is an addition to their previous single, "Demons," from "Night Visions." Reynolds vocals are similar to his vocals on "Night Visions," but he uses a higher pitch that can barely be heard over the instrumentals. There are awesome guitar riffs throughout that create a sweet flow to the song.
The first single off "Smoke + Mirrors" is "I Bet My Life," which was released in October 2014. The song has been used in various commercials throughout the year, making it a popular earworm. Another upbeat song, "I Bet My Life" is a fan-favorite taking its place in the top five on some big name charts.
In interviews, Reynolds has said the lyrics are based on his relationship with his parents.
"Like many teenagers, I really hit heads with my parents at times growing up," Reynolds said in a recent interview with Billboard Magazine. "My mom and dad are from a really conservative background, so when I told them I wanted to be a musician, that obviously wasn't a thing that they particularly wanted to hear. But my entire life I've been the black sheep in my family and been in and out of trouble. So the song's about my relationship with my parents, but still celebrating through it all everything we've been through. We try to see past our differences and celebrate the relationship that we have and that we still share today."
"Gold" is the second single released off the album. Filled with whistling and melancholy lyrics, "Gold" is heavily synthesized. Reynolds' vocals can be heard over all the instrumentals and flow easily throughout. The opening few seconds are a bit interesting, but draw the listener deeper into the song.
Overall, "Smoke + Mirrors" is a great follow-up album to Imagine Dragons' debut "Night Visions." The album utilizes hip-hop influences and heavy synth to their advantage unlike in "Night Visions." "Smoke + Mirrors" is a fantastic alternative album and shows how diverse Imagine Dragons' sound is.