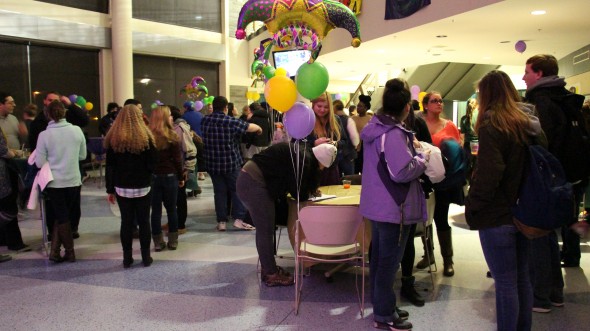 Oswego State's Campus Life hosted its very first "Mardi Gras: Bringing N'awlins to New York" last Tuesday.
The event was sponsored by multiple organizations, including Campus Life, Student Association Programming Board, Student Association, Residence Life and Housing and Auxiliary Services. The activity court and the convocation hall, in the Marano Campus Center were beautifully decorated with Mardi Gras-themed, hand-drawn designs.
"The idea came from Earnest Washington," said Katherine Burrow, community development specialist of Residence Life and Housing. "Earnest Washington is the interim director of Campus Life here at SUNY Oswego. He's from the South, not Louisiana, necessarily, but he is the closest out of probably all of us [Oswego State staff members], when it comes to familiarity with New Orleans culture.  This is the first year that we are hosting this event and it looks like it is definitely a good turn out."
There were yellow, purple and green balloons tied to the tables, railing in upper level of the convocation hall and the stairs.  In the activity court, the tables were covered with yellow, green and purple table cloths. On the side, there was a table set with a bowl of Sazerac, a traditional Mardi Gras cocktail.  Throughout the event, Auxiliary Services offered samples of traditional Mardi Gras dishes.
"The reason I chose to attend this event was because it sounded like a lot of fun and figured there might be a lot of people attending and I was definitely right," said Samantha Wheeler, an Oswego State student. "In the middle of the week and the middle of the academic semester, it is great to have the option to attend a campus-wide event, conveniently located in the Campus Center Food Court, where students, such as I, can relax."
The first food that was served was Crayfish Ragout which is fried crawfish, coated with a light, spicy sauce. The second food that was served was red beans and rice, with the third dish being Muffuletta, a round sesame sandwich containing olive salad mortadella, salami, mozzarella, ham and provolone.
"The most challenging thing about hosting this event was getting everyone interested in a Southern classic tradition," said Darlynda Brownlee, a graduate assistant at The Point. "Even though Mardi Gras is so well-known to be celebrated in New Orleans, it is actually observed all over the world, so, the fact that it has been brought to the SUNY Oswego community was an amazing idea for an event."
On the other side of the activity court, from where the tables were set up, DJ MERC was stationed, where he played hip-hop, pop, techno and jazz and upon request by a couple of attendees, contemporary American folk line dances with called instructions "The Cha Cha Slide," "The Cupid Shuffle." Next to where DJ MERC was stationed, there was a large table, where a King Cake made of a cinnamon-filled dough in the shape of a hollow circle, with a glazed topping and sprinkled with colored sugar was stationed.
"So many people warned me about the months of February and March here in Oswego, NY," Washington said. "I was told those months are very depressing not only for students but for the entire Oswego community.  I was told the weather was brutal and relentless during those months. I immediately began to think of ways to lift the spirits of our students at SUNY Oswego during this troubled time. After multiple conversations with multiple students, staff and student organizations, I decided to push forward with the first ever Mardi Gras Celebration at SUNY Oswego.  I knew this event could be an event to bring out students and friends. I knew this event had the potential to grow into something extremely nice and possibly a tradition here at SUNY Oswego.  ​After last night's turn out, I am overjoyed this event took place and thankful for all entities who helped make Mardi Gras 2015 a success."