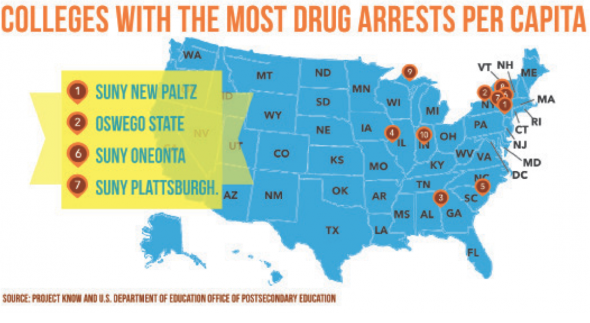 New data from Project Know and the U.S. Department of Education's Office of Postsecondary Education ranked Oswego State at No. 2 for drug-related arrests nationwide.
Oswego State ranked only behind SUNY New Paltz, with approximately 12 narcotics arrests made for every 1,000 students in 2013, as opposed to the approximately 14 per 1,000 students made at SUNY New Paltz.
Project Know is an organization that actively works to educate and combat drug and alcohol abuse in communities across the United States. According to the organization's mission statement, "ProjectKnow.com aims to inform parents and family members of those struggling with addiction, as well as addicts and alcoholics themselves, about the options available for treating addiction."
Each year, the organization ranks colleges by their number of drug and alcohol-related arrests and university disciplinary actions per 1,000 students on campus.
The study itself derives its data from reporting mandated by federal law from every postsecondary institution nationwide under the Clery Act, which includes statistics of arrests for a variety of civil and criminal offenses.  Clery Act reporting is published annually and is available online at Oswego State's website. Individuals may also receive a free copy at University Police.
Project Know released a similar study last year, which ranked Oswego State at No. 3. In fact, SUNY schools occupy four of the top 10 positions for drug arrests nationwide, and every school in the top 50 is a public university. However, Oswego State's rate of drug arrests actually declined slightly from 2012 to 2013, with eight fewer drug arrests made last year, down from 116 in 2012 to 108 in 2013.
As private institutions across the country typically handle drug violations through their student conduct policies, they do not appear on Project Know's report, which calculates only arrests. For example, Ithaca College, made only five drug arrests in 2013, compared to Oswego State's 108. But Ithaca issued 181 drug-related university disciplinary actions, as compared to Oswego State's 44.
The reason for this disparity is apparent, considering Oswego State has a dedicated University Police force on its campus.
"If you look at a cross section of colleges' and universities' reports, I think you'll see a trend," said Oswego State's Director of Public Affairs Julie Blissert. "Some institutions report that they address drug use on campus predominantly through the law enforcement system and others report that they address drug use on campus predominantly through enforcement of their student conduct policies. At Oswego and at many SUNY campuses — and it appears to be common especially at public institutions nationally, if you look at the Project Know rankings — we report that we address drug use on campus predominantly through the law enforcement system."
This reporting can be misleading, as Blissert noted, because "in all cases where students are arrested by SUNY Oswego's University Police, students also face charges under our code of student conduct."
Blissert added that these numbers are not 'double-counted,' even though students face both criminal proceedings and college disciplinary action if arrested on campus.
While private institutions may have a higher rate of drug disciplinary action, Project Know's report only factors for arrests. This may have inflated Oswego State's ranking, as well as the rankings of many SUNY schools; as SUNY police commissioner Bruce McBride said in a statement relating to the statistical frequency of SUNY drug arrests.
"The health and safety of our students is a top priority for SUNY, and I am concerned that the SUNY numbers are not a true reflection of the amount of drug use happening on our campuses in comparison to others nationwide," McBride said. "On each of these campuses, for example, we are fortunate to have University Police forces exclusively patrolling the campus, while many other public and private institutions rely solely on local law enforcement agencies. Having a dedicated, community-oriented police department located right on campus likely results in our officers discovering or being called to incidents of recreational drug use more frequently."
Despite the heavy police presence on Oswego State's campus, rates of drug arrests do not appear to have declined significantly in recent years. The number of arrests has remained relatively consistent over the last three years, with 104 made in 2011, 116 in 2012, and 108 in 2013, according to Oswego State's Clery report. However, it is worth noting that most drug arrests (88 out of every 100) are violations – possession of a small amount (25 grams or fewer) of marijuana. Clery Act reporting does not factor in instances of Oswego State students being arrested off campus. This reporting also does not discriminate between arrests made on students and non-students, and thus it is unclear how many instances of non-student drug arrests occur on campus.
"Obviously, Oswego being No. 2 in the country is very concerning, but I can understand why we might considering we have actual police on our campus … Many schools, especially private ones, don't really have that," Oswego State junior Branden Crosier.
Oswego State has garnered a reputation as a party school, appearing on a number of "Best Party School" lists as well as being featured frequently on Twitter's "USA Party Stories" previously known as "SUNY Party Stories." However, some students do not believe that this is indicative of a chronic drug issue on campus. As sophomore Danielle Harsch said when asked about how she felt about the school's ranking.
"It's unfortunate that we've risen to No. 2, but that doesn't necessarily mean we are a school with an extreme drug problem," sophomore Danielle Harsch said. "If it is based off of arrests, then compared to other schools it shows that the college, Oswego [State], cares about the problem and is actively working to fix it."
Oswego State has implemented a number of programs to prevent student drug use. The Alcohol and Other Drug Committee, a part of the Lifestyles Center "offers alternative programming like open mic and zen meditation to give students other opportunities. There are also peer educators that get information out to the general student population on AOD issues as well as other health and wellness issues. Also, if a student feels they are in need of services regarding drugs or alcohol, there are many programs and professionals to help the student.