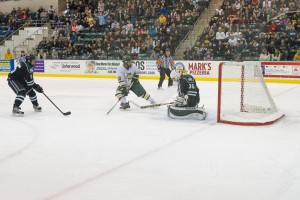 The freshman phenom of Oswego State's first half re-emerged on Friday night as Mitchell Herlihey's five-point night highlighted men's ice hockey's 6-2 win over Morrisville State at the Marano Campus Center Ice Arena.
Herlihey finished with two goals and three assists. His second was at the end of a four-minute stretch where the team scored three following the Mustangs' second goal at the 11:13 mark, which had cut the game back to one goal.
Morrisville State's John Lauer potted a goal right after an interference penalty on Oswego State's Chris Waterstreet expired. Laker goalie junior Justin Gilbert had strayed out of his net when Darren Young found Lauer in front of the wide open net. Gilbert finished with 15 saves, while the Mustangs' goalie Steven Dombrosky had 36.
The Mustangs hung around for much of the game, as they historically do in Oswego. Head coach Ed Gosek commended his team for showing resiliency throughout the contest and putting the game away when the opportunity was there.
"It's a great play by Herlihey to Tags to put it back to two," Gosek said. "I think that took momentum away from them. You feel like you're in control. You've got zone time, you're creating opportunities and yet it's not on the scoreboard. Then, they were one goal from tying it up. We've been there before. They were one bounce or deflection from it being a tie game. You played a pretty solid game, so you have to finish when you get the opportunities."
Before Herlihey's goal at 17:09, he fed his linemate, senior Mike Montagna, for the fourth score just 1:53 after Lauer's. Montagna finished the game with three points of his own, putting up two goals and an assist. Sophomore Shawn Hulshof had the secondary assist as the second line finished with 12 points in the game, including each player contributing at least one goal.
Less than two minutes after Montagna expanded the lead back to two, defenseman Stephen Johnson decided to make a move for net that resulted in the fifth goal. Johnson carried the puck through the right circle and finished a one-handed backhand, while using his other arm to hold off the Morrisville State skater trying to knock him off the puck.
In the middle frame, defense was the story in the way offense was in the third. After a back and forth first period where the sides traded goals and each took 10 shots on goal, Oswego State took all 16 shots in the second, scoring twice.
An overwhelming amount of possession and pressure by the Lakers left the Mustangs' chances to break the puck out and get on the attack few and far between. The hosts had a number of two on one opportunities throughout the game, but during a stretch early in the second the chances came in bunches, leading to Hulshof's goal from a tight angle at 6:42 off a feed from Herlihey. Although, Herlihey's goal proved to be the story.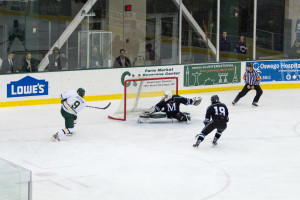 With sophomore forward Kenny Neil day-to-day, Herlihey was moved on to the first power play unit to play in Neil's position. The top unit is known for its continuity as it has been together for the last two seasons, except for the end of last season when Neil tore his MCL. The unit went 1-for-5 on the evening, but not for a lack of chances. The new addition scored that one.
At 1:34 of the period, the Mustangs' Jordan Carvalho was sent off for tripping giving Oswego State the man advantage. The Lakers were held scoreless on their lone power play of the first period and had gone all but two seconds of the this opportunity before the freshman broke through. Herlihey had just missed on a chance at the back door when the puck cycled back down to him for a second time, and he capitalized.
Gosek saw many positives despite just one goal from the unit in the game.
"I thought Herlihey did a nice job with the unit," Gosek said. "They certainly had their looks. I know they were 1-for-5 on the night, but I thought they certainly created a lot of opportunities. I thought they had a lot of good looks. Their goalie made some good saves, we shot pucks into him and shot pucks wide that would normally drop. But, I thought puck movement was good, their release points, I thought they moved the puck under pressure intelligently. Those were some good signs even though there was only one goal to show for it."
Gosek also touched on the absences of Neil and starting goalie Matt Zawadzki from the lineup.
"Kenny's just going to be day-to-day and we have to make to through until he's healthy, same way with Zawadzki," Gosek said. "Gilbert played extremely well, Ferreira went in and did a nice job, Herlihey on the power play unit. When you take one player out, you hate to make a lot of additional moves to take away from consistency of the lines. We try not to do that sometimes just due to past experience with chemistry between certain players, and we try not to mess with that. That's why Jackson went up with [Galati and Botten] instead of Ferreira."
Friday night's win keeps Oswego State three points behind SUNY Plattsburgh for the conference lead after the Cardinals' 6-0 win over Buffalo State. SUNY Geneseo broke its tie with the Mustangs for third with a 3-0 victory over the College at Brockport. Oswego State and Morrisville State return to the ice on Saturday night for the two-game series finale. Puck drop is set for 7 p.m.