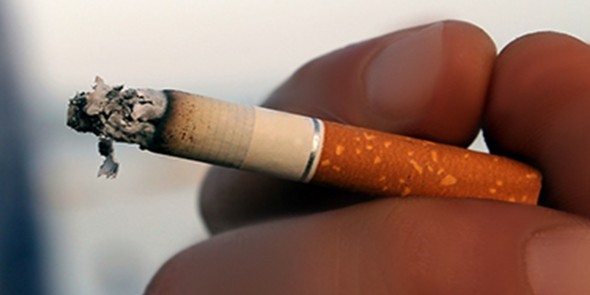 Oswego State has joined other colleges across the nation by prohibiting tobacco products on campus as of the first of the year, after years of planning and promotions by a variety of students, faculty and staff members.
"We are really talking about a culture change, it is really not going to happen overnight," said Barbara St. Michel, the associate director of Campus Life and head of the Clean Air Committee. "It is really everyone's responsibility to understand that we are not asking you not to smoke, you just can't smoke on campus."
Last semester, students, faculty and staff were only able to smoke on campus if they were 25 feet away from the nearest building. This new policy is an update to the latest smoking policy. As mentioned in the Oswego State Student Code of Conduct, smoking of any kind along with any kind of tobacco products are prohibited on campus, at the extension of campus, at all indoor and outdoor events, college-sponsored programs and activities on campus, in personally owned vehicles parked on campus and all vehicles and equipment owned, leased or operated by the college and all affiliated organizations. This policy prohibits the use of tobacco products and other smoking apparatus such as pipes, hookas, vapors and e-cigarettes. This policy is in effect on the main campus, Rice Creek, the athletic field, the Phoenix Center, the Metro Center and all property of Oswego State.
"I believe that we are building a healthier community we are doing our part to make sure we have an environment that is sustainable," said Oswego State Vice President for Student Affairs and EnrollmentManagement Jerald Woolfolk.
According to Woolfolk, a tobacco-free campus has been in the works for about three years. In 2012, when SUNY Chancellor Nancy Zimpher started an initiative to make all State University of New York campuses tobacco free, Oswego State started to see how it could be implemented. In 2011 the Clean Air Steering Committee, comprised of smokers and non-smokers, students, University Police, Auxiliary Services, the Mary Walker Health Center and other faculty and staff unions, was created
to explore the possibility of going smoke free and tobacco free at Oswego State. Surveys were completed and focus groups were formed in order to collect data and get more information on smoking preferences and how smoking impacts the community. The proposal was presented to Oswego State President Deborah Stanley and the president's council by Woolfolk. When it was approved, it was decided the campus was going to prepare to enact a new tobacco-free policy at the start of 2015.
Leading up to this semester, the Clean Air Committee has used different advertising strategies to inform students of the new policy change. They have used posters, flyers, stands, digital signage, brochures and letters to be sure students, faculty and staff are aware of the change in policy. The committee has also worked alongside the admissions office to promote a tobacco-free campus to students before they apply. Announcements at home hockey games were made as well.
"We are looking at new versions of our brochures and they are in the process of being printed. They will not say that we are starting on Jan. 1 but that we started and [the brochures will] have new colors and will have new stuff to them. But the message is always, support, and this is the policy," St. Michel said.
According to Woolfolk, tobacco free is now a part of the Student Code of Conduct and as of now it is considered to be a self–enforcement policy.
"We are saying that we value clean air and that is what we value at SUNY Oswego, and if you are going to be a part of this community, then you must value the same thing and not pollute it," Woolfolk said. "We are hoping that people will do the right thing."
As of now, there is no protocol for documenting a student who is smoking on campus and violating policy other than asking them to stop, educating them on the policy and giving them information on how they can stop smoking.
"We are hoping that people follow the policy and if they don't, then we might have to go back to the table and put some sanction into place," Woolfolk said. "We wanted our community to do the right thing just because it is the right thing to do and give them that opportunity [to do it]."
Residence Life and Housing is responsible for enforcing this policy in and around the residence halls. According to Richard Kolenda, assistant vice president of Residence Life and Housing, the resident assistants along with the administration of Residence Life and Housing, are expected  to confront a student and document them. The hall directors are responsible for meeting with the people who decide to violate this policy.
"Depending on the severity of the case or if it was a repeat offender, they would be handled like any other violation," Kolenda said. "What we are trying to do is follow the policy as much as we can within reason. We don't want to make this a state of everyone looking over their shoulder. That is not what we are here for. We want to educate."
UP has developed a different approach than Residence Life and Housing but still has the goal to educate and inform students about the policy and the health risks.
"They do not want to seem like they are trying to strong arm people in this so that is one of the reasons why we are not enforcing it," Lieutenant Matthew Barbeau said. "It is more of a peer-related enforcement. The biggest goal of the committee and the college is for the people who want to quit smoking to give them the help that they need, the desire to get them to actually stop smoking. It is more or less trying to work with the student and try to explain the process and the policy to them, to get them to stop what they are doing at the time. Hopefully once word gets around more and more then hopefully it will stop."
At this time, only two weeks into the semester, there is no way of telling if the amount of tobacco users have diminished but with personal observation she sees an improvement, according to St. Michel.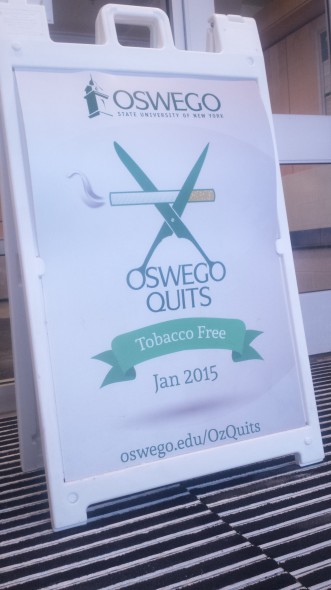 "It is about communication, cooperation and education on issues surrounding tobacco use," St. Michel said. "We hope we catch somebody, inform somebody and have a change in their behavior."
Since this policy has been enacted, there are no longer green cigarette butt pots to aid students in the disposal of butts on campus. Students have noticed more of a concern over the littering of cigarette butts on campus grounds.
Junior Stephan Hook originally thought Oswego State was always a smoke-free, tobacco-free campus. Now informed of the newest policy, he thinks students have the right to smoke.
"I don't mind if people smoke on campus as long as they do it away from other people," Hook said.
Junior Danielle Minnick, thinks it is a good idea but has a problem with how they plan to enforce this policy.
"It will certainly cut down on the amount of air pollution going around campus and it will certainly make our overall environment nicer," Minnick said. "But I have a big problem with how they are going to enforce this type of behavior. I mean, I have seen people smoke even now, and from what I read of the agreement it says that multiple offenses will end up with repercussions but it does not state what those repercussions are… I think that with this new policy in place, people [are] just going to sneak around more and it is just going be more of a problem than it was before."
The Mary Walker Health Center is offering help to anyone who wants to quit smoking. They offer free Nicotine patches, gum and lozenges for students as well as smoking cessation workshops and counseling.
"[Our goal is to] provide as much knowledge and advice, support and tools as much as we can," Clean Air Committee member and nurse practitioner Donna Jerett said.
According to Jerett, when a person comes in, Mary Walker, staff usually have a meeting with them, mostly just to talk, but if they are at a point where they are contemplating and ready to set a quit date, everyone at the health center is trained to give them the tools they need to be successful.
"If I help one person quit, I would feel successful," Jerett said. "We have an open door here and we want to help anyone who wants to quit."
According to Jerett, she has helped more people last semester after the tobacco-free policy was being heavily advertised.
"The basic philosophy is that smoking tobacco is bad for the environment, bad for people and bad for the economy. If you look at the long term health cost for people who smoke, and studies have shown that the number of people who take up smoking during the college age formative years is pretty staggering, and if we can make a difference when people are young then people might not choose to smoke." St. Michel said. "Not in my generation but in the generation to come, people will see a difference."