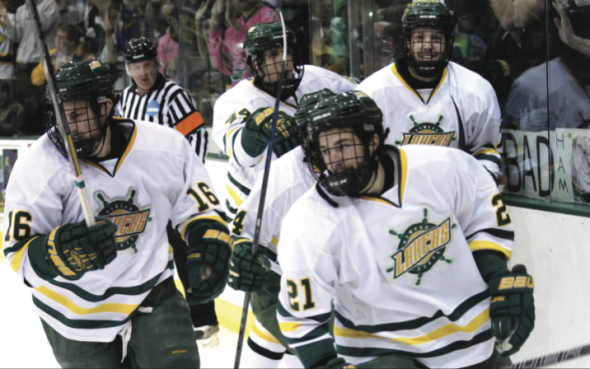 Five men's ice hockey players meet over along the boards joking around after a hard midweek practice. They act like great friends just having a good time playing the sport they love, but they're more than that. These five members of the No. 2 Oswego State Lakers make up one of the best power play units in Div. III and are crucial to the team's success.
Over the past two seasons, the unit of senior captain Bobby Gertsakis and four sophomores, Kenny Neil, Shawn Hulshof, Matt Galati and Alex Botten, has accounted for 40 of 58 Laker power play goals. As the players recognize, their success when on the man advantage can be the difference between winning and losing a game. They give a lot of credit to the coach who works with them, Dan Ford.
"I think a lot of it has to do with Ford-o, our power play coach," Botten said. "He emphasizes that power play either wins games or loses games, as well as PK and special teams in general. He gets us all fired up for every power play."
To the average fan on campus, the differences between even strength ice hockey and being on the power play can be difficult to understand or simply overlooked. Those important two-minute time frames when an opponent is down a skater must be treated a bit differently.
"The major difference between five on five and five on four play is the amount of time and space you have," said Dan Ford, Oswego State power play coach. "The systems that we have in place as a team for five on five hockey are completely different than what we have in place for five on four hockey. Five on four hockey is more looking for set plays and reacting off of rebounds and loose pucks from those set plays. So, a whole different way of looking, a whole different strategy between five on five and five on four hockey."
Ford works with the power play units each day in practice so they can be in top form and make sure each of the two units is ready to capitalize whenever an opportunity arises.
The team has used the same scheme for the power play for a number of years. Each of the five players has a set spot on the ice he covers and from that spot he has two or three options of what to do when the puck is on his stick. On top of that, each player is given a couple options of what to do when expecting the puck, as well as a few others in neutral puck situations. Neutral puck situations are situations where a battle to retain full possession of the puck ensues.
According to Ford, a big part of the practice time is getting in as much time as possible in the multitude of situations that could occur throughout a game.
"We try to put them into different scenarios that they're going to see in a game," Ford said. "Repetition brings about scenarios where you're making plays in a game without having to think too much because one thing that can really hurt you on the power play is overthinking things."
The top unit of Gertsakis, Neil, Hulshof, Galati and Botten has become a product of this philosophy. The reps they get in during practice and games over the past two years has put them in a position where the five members of the unit believe their puck movement is so quick that eventually someone will be open with a chance to score.
In many cases, their unit does capitalize on the opportunities it gets. It has scored on 16 of the Lakers' 64 power play chances this season, playing a big part in making the team second in Div. III in power play efficiency at 32.81 percent. The unit accounts for all but five of Oswego State's man advantage goals through 18 games.
Ford believes the number one thing that makes the unit so good is the attitude they bring to the power play. Having a high skill level and good shooting are both crucial components to success in those situations, yet the right attitude is even more important.
"What I mean by attitude is, their willingness to put the extra work in, the extra time in, watch extra video, to spend extra time after practice on, to have great dialogue amongst each other and great give and take with me and anybody on the staff," Ford said. "That's what's made the biggest difference."
Another factor, which helps Gertsakis, Neil, Hulshof, Galati and Botten thrive, is the continuity they have. Other than the time last season when Neil was out after tearing his medial collateral ligament, the five of them have been a power play unit since the start of last season. With the injuries the Lakers have dealt with throughout this season, Ford recognizes that the second unit has been shifted around quite a bit, affecting its success. As the first unit continued to score, it was getting more and more ice time and continued to tally goals.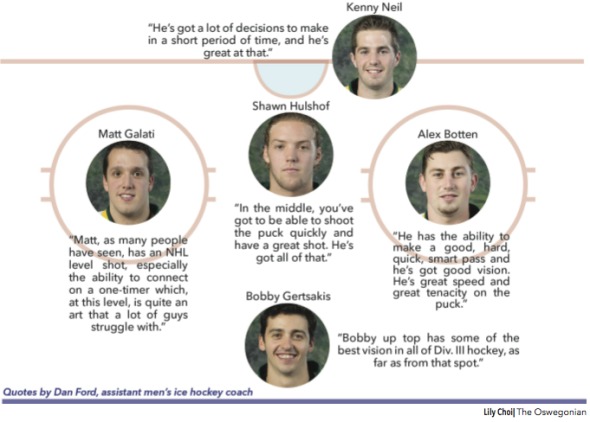 Last season, the top unit provided offensive support in key situations, and this season Ford sees that it has picked up right where it left off.
"Right away, they had success," Ford said. "We had one power play opportunity against the U.S. under-18 team and they score 16 seconds in. It was a big moment in the game. The very next game, we're losing to Buff State, 3-0, and we go on the power play, we need it, and we get two power play goals, get back in the game, and end up winning the game. So, what happened with that is, we gave them the majority of the minutes in the power play opportunities because continuity and flow is extremely important in power plays."
One sign of the continuity of play paying off for this unit is the play that has set up many of Galati's power play goals over the last two seasons. That play is a cross-ice pass from Botten in the right circle to Galati in the left for a one-timer, which Ford said is an NHL-level shot.
"It's not regular," Botten said. "If it's open, it's there. If I can throw backhand sauce, I throw backhand sauce. If the lane's open I'm going to try to get it to him. But, if it's not, anybody else can get the puck and score."
Galati and Hulshof added that they move the puck so quickly as a unit that they get the defense out of position, which opens up that passing lane. Gertsakis also attributes it to the unit's chemistry.
"That has a lot to do with trust between each other to pull that stuff off," Gertsakis said. "Like, we kind of know where the other guy's going."
A member of the unit who has upped his play and become a formidable threat every time the team is in the offensive zone is the unit's man in the slot, Hulshof. Ford has observed him combining confidence and work ethic this season to make a great impact on the team this season. Hulshof, who finished last season seventh on the team in points with 20, is leading the team this season with an already higher total of 28. His balance of scoring has been huge as well, totaling 14 goals and 14 assists. Ford said the success has been a progression, which started during the summer.
"It started way back in September," Ford said. "Guys said, once we got together as a team, 'Yeah, before you even saw him, he came back from the summer at a much higher level.' So, he put the time and work ethic in over the summer and it paid off. It all blended together. His confidence grew. You've got to have confidence on the power play. It's a very difficult facet of the game. It's a fickle facet of the game."
The entire unit can score, making them all the more dangerous. The five players hold the top four spots on the team in points, and the sixth spot as well. Galati believes this fact is a big part of what makes the unit go.
"I think the bottom line is all of us love to score," Galati said. "When we get a power play we want to get out there. We want to put the puck in the net. I think it comes from within. We all have a drive to score goals and make something happen offensively."
To put the unit's success into context, Ford believes it is among the best the program has ever had. An assistant coach with the program for a number of years and involved with ice hockey in the Oswego area for even longer, Ford has seen many talented Laker teams.
"We've had guys with equal or more skill and we've had very good power plays," Ford said. "But, I think, what keeps them right there in the conversation at being at the level we're talking about, again, goes back to their attitude toward it. How they treat it, how much pride they take in it and the composure they have. Go back over the years and we've had guys who maybe got more frustrated than you should on the power play. That's a big part of it. You've got to have great composure. So, they happen to have all the elements you need to go along with the skill set, which puts them in the conversation to be one of the best."