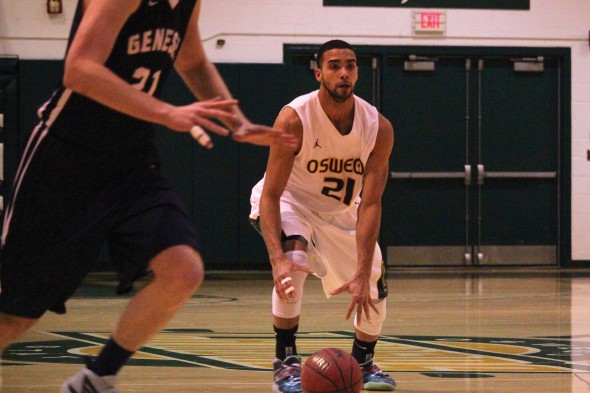 After making it to the semifinals last season, seeing only one player graduate from last year's team and having their top scorer healthy for the entire season thus far, the Oswego State men's basketball team is looking for another SUNYAC Championship.
The Lakers showed their dominance early on in the season, winning six of their first eight games and also starting 5-0 in conference play. This was a quick start that put them on top of the standings where they are currently in a tie for first place with SUNY Plattsburgh at 8-3.
During that early stretch, the Lakers also played in two tournaments, one at home-the Max Ziel Men's Basketball Tournament, and one in Daytona Beach, Fla. in the Land of Magic Classic. Head coach Jason Leone said how playing the teams in those tournaments, teams that they don not usually play, and who have different styles of play, helped them improve as a team.
Another boost to the Lakers so far this season is the amount of close games they have played. Of their 18 games.10 were decided by single digits. In those games Oswego State is 5-5, but thanks to those close losses, Leone believes the team has grown.
"Every night we're being put in a different learning experience," Leone said. "I think losing is never fun to go through, but it puts you in opportunities to learn something about yourself. I've been very pleased in my tenure here with our ability to persevere and bounce back after our defeats."
One of the key cogs in this season's success for the Lakers has been sophomore guard, Brian Sortino. The leading scorer, who is averaging 14.2 ppg, returns last season from being the No. 2 scorer before he suffered an injury that caused him to miss the last eight games of the regular season and the Lakers playoff run as well.
"Your health is your biggest thing," Sortino said. "That really put me down last year. I really wanted to be there for those guys and win SUNYACs, but it's a new year and I'm having a better season than I did last year."
Leone said the team is clearly a better one when Sortino is on the floor. But what has really impressed him is Sortino responsibility in handling the pressure of being the top scorer as only a sophomore.
"To go from that number two option to number one is a a very big jump in any level of college basketball," Leone said. "People are gameplanning against you, they know your every move… Brian, I think, has learned a lot about himself and he certainly has performed at a high level for us."
Another leader on the Lakers is the lone senior, forward Rashawn Powell. Being as the only graduating player has not altered his play he explained because of the support and encouragement he receives from the rest of the team.
"It hasn't affected my mentality," Powell said. "I have a great group of guys with me, helping me out with whatever I need help. On the floor we all stick together."
Powell and Leone have a special connection as they both came to Oswego State for the 2011-2012 season. That year, the team went undefeated with incredible players like Hayden Ward and Chad Burridge leading the way. Leone has seen the progression Powell has made in his time with the Lakers to one of the leaders of the team, second in scoring with 10.2 ppg and leading in rebounds with 8.8 rpg.
"He's been through a lot in his four years here, playing behind two All-Americans in Hayden and Chad, and then finally getting an opportunity last year to persevere and to stick with it," Leone said. "To do what he does, where he's consistently giving up size and strength in the post, is really an impressive feat with numbers he's put up over the last two years."
That work ethic and ability to do whatever it takes for the team is another reason Leone is glad he is coaching Powell, and not against him.
"He's a proven player in our league, and Ray has done everything we've asked him to do," Leone said. "He's constantly a team player. There's not one coach in the league that doesn't say, 'If I could only have a guy like that on my team, we'd be much better.'"
The X-factor for the Lakers this season has to be none other than junior guard Walter Sampson. Going from averaging 2.7 ppg last season to now 9.2 ppg now. Sampson's improvement, on and off the court, over the offseason did not go unnoticed by Leone.
"Walter improved his maturity level quite a bit," Leone said. "He went home over the summer and really did some soul searching. [He] put the time in the weight room, he came back a more focused guy, a more mature guy and a more confident guy because of the work he put in over the summer."
According to Sampson, putting on the extra muscle over the summer and also improving many other facets of his game led him to become one of the more prolific passers this season, second in assists averaging 2.4 apg. He is second only to Sortino who is averaging 3.3 apg. When Sortino was out during pre-season due to injury, it was Sampson who was there to take the reins.
"Walter was a big part of holding the ship together," Leone said. "He's certainly taken a big step forward."
Being the player who is passes the ball around and gets everyone participating is something new for the junior.
"Ever since high school I've always been the [one to] pass first and try and get my teammates involve," Sampson said. "I feel like I could always create my own shot but if I can get my teammates involved early on, it will open up better opportunities at the end of the game."
The team would not be as good as it is if it were just for the leaders, however. Players like juniors Kyle Covley and Mark Candelario are also important assets. Covley is third on the team in scoring with 10.1 ppg, and Candelario holds the position of tallest man on the roster at 6'8". Newcomers freshman Ian Schupp and sophomore Dustin Pond have had successful first years at Oswego State as well. Having these other players to go to, as well as players off bench, is what everyone believes will be key going down to the final part of the regular season and toward a playoff run.
"If you look at our league, one of the common denominators that comes with winning this conference is depth," Leone said. "We're in a midst of a stretch now where we play six games in two weeks. It's hard to play five or six guys and be successful with the amount of physicality that goes on in our league."
Sortino and Powell agreed with the statement of how it will come down to not just a few players, but the entire team, if they are going to make a run. Both of them also completely trust the players they have around them.
"I have a ton of confidence in them, I know that if I pass to them the ball, I know they're going to make a play," Sortino said. "They're all just great shooters."
"Any given night it can be anybody on our team," Powell said. "We have a lot guys who can play, and a lot of guys who can put the ball in the basket. So you just have to be ready any given night when your number is called."
These extra players not only help in games, Leone said, but in practices as well. Their input makes the team more competitive and pushes everyone on it to do their best. And because they have so many upcoming players the future of the program looks very bright.
But right now the focus is solely on what they can do this season, as the team looks to return to the SUNYAC Championship for the first time since Powell and Leone's first season back in 2012. All three players and their coach agreed that their togetherness is what will help them get back to the NCAA tournament once again.
First things first, however is winning the regular season championship and getting to host a playoff game, and possibly the conference championship in front of their home crowd, is very important to the team. But with still seven games on the schedule, and a big one coming up on Saturday, Feb. 14 at home against the team tied for first place with them, SUNY Plattsburgh, the Lakers need to to make sure everyone is performing at their highest to make it down this final stretch.
"I think what will be the telltale sign is to what we're trying to get our guys to buy into, and they have, is the intangibles are going to become that much more important," Leone said. "Taking care of your body, being the best teammate you can be, being the first to dive on the floor, making the extra effort plays.
It is also going to be about how every player is getting ready for each game. At this point of the season, every game holds a lot of weight.
"The more you prepare, or the better you prepare, that in terms gives you more confidence, and a more confident athlete is an athlete that performs better," Leone said.
Leone hopes to see his team perform better and better as the season comes down the wire. If they do, the dream achievement they're all gunning for this season, a SUNYAC Championship, will set closer and closer to reality.