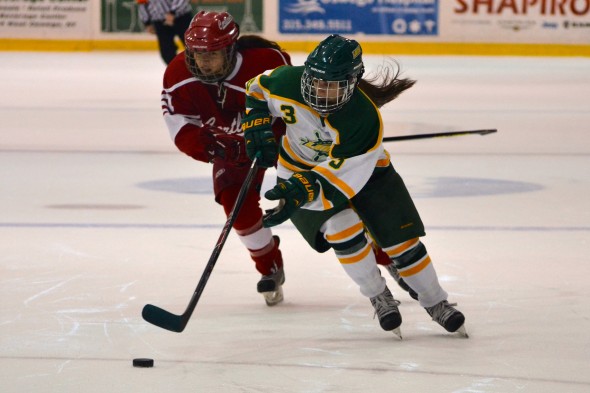 This weekend at the Marano Campus Center Ice Arena, Oswego State Women's Hockey returns to the ice for the first time in the spring semester, hosting Buffalo State in a pair of games. Over winter break, the No. 9
Lakers went 4-2-1 (2-2-1 in ECAC West Conference) and improved their season record to 11-4-1 on the year (7-3-1).
Over the span of winter break, Oswego defeated nonconference opponents Plymouth State College and Michael's College convincingly. They defeated conference opponent Chatham University twice, tied Utica College, and lost both games they played against unanimous #1 ranked Plattsburgh State and were still able to break into D3Hockey.com's top 10 poll.
Oswego currently is third in the ECAC West behind Plattsburgh State and Elmira, hosting a slim advantage of Buffalo State, their opponent this weekend.
Since the 2008-09 season, Oswego State has had Buffalo State's number, and has dominated them, only surrendering a tie once. Posting a 12-0-1 record against the Tigers in that span, outscoring them 40-10, including seven shutouts.
Senior Bridget Smith played almost full-time in the net since December and will probably get the start again tonight after Junior, and Captain, Tori Trovato struggled against Plattsburgh State.
The freshman class also picked up its play recently as Andrea Noss, Rachel Lenard and Brianna Rice have all significantly contributed, making their lines one of the most lethal not only on this team, but in the conference as well.
Also in addition to the conference play between two of the top teams in nation going head to head, this is also the annual "Pink The Rink" weekend for the Lakers, and fans are encouraged to wear pink attire to support the fight against breast cancer.
This weekend stretch is undoubtedly very important for the Lakers, as they hold a one point lead over Buffalo State. Winning both tonight and Saturday afternoon would separate themselves from the Tigers and take control of the No. 3 seed in the ECAC West. Wins against a tough opponent could bump their No. 9 ranking in the nation according to D3Hockey.com and propel themselves into the top 10 of USCHO's rankings.