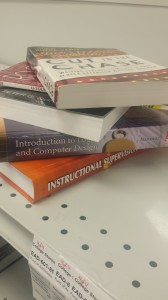 College is expensive enough with tuition, room and board and other miscellaneous fees. But every semester, textbooks become an added expense.
A recent study from the Government Accountability Office reported that the cost of college textbooks have risen 82 percent from 2002 to 2013. This rising cost is deterring college students from purchasing textbooks for classes.
The United States Public Interest Research Group (PIRG) surveyed more than 2,000 college students from over 150 different colleges across the country and found that textbook costs can dissuade students from purchasing books at all and can also affect which classes they choose to take.
"I can tell you that professors do talk about this," said Oswego State Communication Studies professor Gary Ritzenthaler. "In the course I use a textbook for, we looked at all the available options. You want to get the best textbook or the best resource. The textbook I am using for this class is the cheapest textbook and we did think a lot about that."
The PIRG report determined that 65 percent of students would decide against buying a book they felt was too expensive, 48 percent of students said that textbook cost influenced their course selection and 94 percent of students who chose not to purchase textbooks feared it would negatively impact their grade in the course.
"In a perfect world, an instructor uses the textbook to complement their teaching, not to replace their teaching, but also not to be repetitive of their teaching," said Oswego State bookstore manager Susan Raby. "They go together and give you a great education. If you have a teacher that does that and you don't have a textbook, you're missing out on part of your education."
There are some alternatives to buying brand new, expensive textbooks every semester. Many students choose to buy used versions of the textbooks or older editions. Some students like to rent their textbooks or purchase e-books.
The best way to save money on textbooks is to shop around online for the best prices, using websites like Amazon and Chegg. But the Oswego State bookstore is also a good resource for finding cheaper books.
Oswego State has introduced a new program this year called Dare to Compare. The bookstore uses competitive pricing on all used textbooks, as well as discounting all new textbooks by 10 percent.
"We worked really hard to reduce our prices across the board on all new textbooks," Raby said. "Were we always the least expensive? Maybe not, but we spent a lot of time and dedicated a lot of Auxiliary Services dollars to discounting the prices on new books."
The bookstore also has rental options as well as a buyback program at the end of each semester where students can receive up to half of what they paid for the original textbook.
Another way to save a few extra dollars is by purchasing or renting e-books, digital copies of a textbook that can be viewed on a computer, tablet or smartphone.
While e-books are a growing trend, many students do not take advantage of the new technology.
"Some publisher's e-books cost just as much or more than the printed version. E-books cannot be shared with a friend or sold back at the end of the semester," said Oswego State librarian Emily Thompson. "Students like them better when they get more than 50 percent cheaper than the print book."
Getting good prices on textbooks is not an easy task, but with more options, students do not have to sacrifice their education because they cannot afford the books.