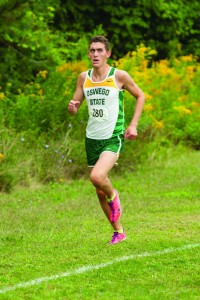 This past weekend both the men's and women's cross country teams continued their successful season at the SUNYAC Championships held in Brockport, N.Y.
As every New York state cross country runner knows, once it gets to November one is not only battling other teams and runners, but one is battling the weather as well. During the race, runners experienced a mix of rain and snow. Temperatures barely got over 40 degrees, and winds gusted up to 25 mph.
Weather can affect the way a runner races as the cold temperatures and freezing rain can prevent a runner's body from warming up properly and slows down a runner during a race.
The Oswego State men's cross country team finished in 6th out of 10 teams in the race, just behind fifth-place finishers SUNY New Paltz. SUNY Geneseo won the overall race.
Senior Nick Montesano shared his joy about the team's performance.
"I'm satisfied with the race, overall," Montesano said. "We definitely had higher goals coming in. We wanted to finish in 5th place, but it happens and I'm happy with the race. I'm not displeased."
Montesano was the top Oswego State runner finishing in 19th place with a time of 26:21, and was very happy with the way he raced.
"I had a PR (personal record)," Montesano said. "I was able to handle the temperature and weather and things like that because it was snowing during the race, but overall I'm very satisfied."
Continuing recent trends underclassmen runners, had another strong race.
Freshman Colin Greenseich finished in 31st place with a time of 26:49, only 28 seconds behind Montesano. Freshman Tommy Kolankiewicz finished in 42nd place with a time of 27:44. Finishing just behind Kolankiewicz was sophomore Tyler Morris in 43rd place with a time of 27:46. Freshman Kyle Pollicove rounded out the top five for the Lakers finishing in 45th place with a time of 28:24. Overall, out of the top 10 runners for Oswego State, nine of them were either a freshman or sophomore.
Greenseich also had a positive outlook on the team's SUNYAC Championships performance.
"The teams performance was pretty good," Greenseich said. "People stepped up well. It was a little bit not what we were expecting, but we still did pretty good. Our goal was to get 5th place as a team, and we finished in 6th so we didn't reach our goal but we still did good."
Along with the great performance by the team, Montesano commented on how he was very impressed and excited for the future of the team after the great performance.
"We have a deep team coming up and a lot of these guys are beating my times as freshmen, so, in comparison, they're going to be better than me when they're seniors so that is excellent," Montesano said.
Oswego State will look to continue its season as it has the NCAA Atlantic Regional Championships coming up on Nov. 15th at Genesee Valley in Rochester, NY. The race will begin at 11 a.m.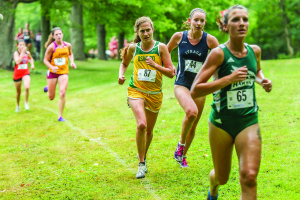 The Oswego State women's team also had to battle against the rough weather racing in the same conditions as the men's race, with cold temperatures, high winds and a mix between rain and snow.
The Oswego State women's cross-country team also had a strong race at the SUNYAC championship-race. The team finished in 8h overall in the 6k race.
The team's top runners continued to dominate as a pack finishing within a minute of each other, something they have consistently done all season.
Junior Sarah Popovitch led the way for the Lakers finishing in 39th overall with a time of 25:38. Junior Karlee Duffer finished right behind her in 44th place with a time of 25:07. Coming in just seconds behind Duffer was Graduate Student Samantha Bielli with a time of 25:12.
The top freshman runner for the Lakers was Morgan Bronner who finished in 47th place with a time of 25:16. Coming in 5-tenths of a second after Bronner was junior Katie Laris who finished in 48th place. The Lakers had five runners place within the top 50 at the SUNYAC event with an average time of 25:06.
The women's cross country team will also continue the season at the NCAA Atlantic Regional event in Rochester, N.Y. on Nov. 15. The race will begin at 12 p.m.
As the season starts to close both the men's and women's teams have had very impressive seasons so far and will look to have a strong performance on Nov. 15.