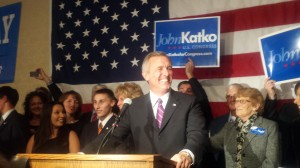 John Katko defeated Dan Maffei in the race for New York's 24th District for the 114th congress. Katko led Maffei 59.3 percent to 40.7 percent with 95 percent reporting, according to the New York State Board of Elections unofficial poll data.
"They said it was going to be a close race, I don't think so," John Katko said. "Voters are sending a fighter to Washington."
The energy of the crowd surged through the Sheraton Hotel in Syracuse as the Republican headquarters celebrated a victory for the former federal prosecutor.
As polls were coming in throughout the night, Katko led Maffei in all the four counties that make up the 24th District.
"As for my opponent," said Katko. "I wish him well and I thank him for his service."
Maffei has been the district's representative for four of the last six years. He had anticipated a close election in the campaign's final days, but conceded to Katko less than two hours after the polls were closed.
"I congratulate Mr. Katko on being elected as the Representative for New York's 24th District and urge him to fight for what is best for Central New York, even if it means breaking with his party," Maffei said. "That is what Central New York needs and deserves from their representative in Congress."
Katko will be sworn in as the new congressman on Jan. 3.