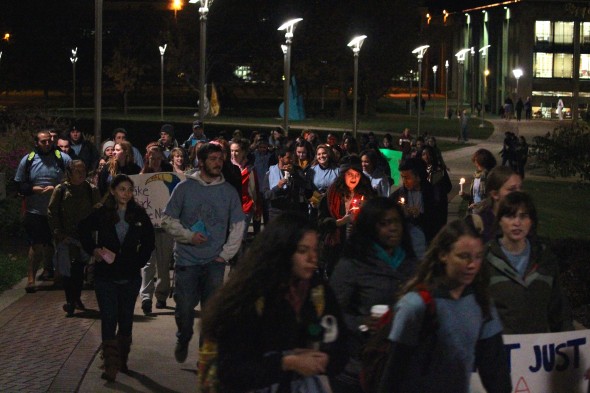 Take Back the Night, an annual fall event at Oswego State, was held last Tuesday to speak out against domestic and sexual violence for women.
The marches originally grew in response to the way women were expected to confine or limit activities to protect against sexual assault by strangers, according to Maureen Curtin, faculty adviser of the Oswego State Women's Center.
"Though research now confirms that most victims of sexual assault are harmed by those in their friends and family circle rather than by strangers, the march continues to serve a function: We must be free to travel public space at any hour without others interpreting our activities as an invitation or sign of availability," Curtin said. "Put another way, Take Back the Night is a reminder that women are never in graver danger than when confined, whether in body, speech or movement. Recent assaults on campus tell us that Take Back the Night is far from obsolete."
The event, which usually starts in the Hewitt Union ballroom, was moved to the food court in the Marano Campus Center this year.
"Our Take Back the Night march will start in the Campus Center food court, lead around toward lakeside and circle back to the Campus Center food court," said Heather Crean, president of the Women's Center. "We do this because at the end of the march, we have food out and invite everyone to speak about their own personal stories. It's a very intimate time in which we try and create a welcome, open atmosphere where people can not only share their stories but to know that even people who may not know them are there to support them," Crean said.
Take Back the Night usually has a good turn out. However, the majority of the people who attend are women, as Bethany Cole, a junior at Oswego State, noticed.
"It's unfortunate that you see just a lot of women here because statistically, men are the people that commit these crimes so it's kind of sad. So I feel like we need more of  a way to get them here," Cole said.
Senior Luke Carbonaro works for SAVAC and he often sees the other side of sexual assault. He feels men don't attend events like these because they may feel hesitant or intimidated.
"Sometimes guys are just afraid," Carbonaro said. "People stand up in front and say men are to blame, not saying that happened here but that's the general feel guys get. It makes it more hesitant to come out and support. I think it needs more communication."
Take Back the Night is a popular event on campus, and one of its main purposes is to try to educate people about sexual assault.
"We typically have a few hundred people come to our events such as Take Back the Night and the Slut Walk," Crean said. "While we hope that our turn out is high, what we really care about is educating people. I would rather only have 100 people come and truly learn the truths about sexual assault and victim blaming, rather than 500 coming just to be there."
There is a lot that goes on behind the scenes in order for an event like this to occur, according to Crean.
"T-shirts and food need to be bought, venues need to be booked, we invite many people to come and either table at our events, which would be showing more resources to getting help if they so choose, or we invite people to speak in front of the crowd before we march, to name a couple of things," Crean said. "It takes months to plan an event like this, and those months are incredibly stressful, but it pays off in the end."
At the event, there were a few tables stationed to allow students more resources they can utilize.
"Over the years, professional counselors have been available to talk with anyone who wanted additional support," Curtin said. "More recently, the evening's activities are an occasion to introduce students to the resources and mechanisms available on campus, including the college's responsibility to adhere to Title IX."
The overall consensus is Take Back the Night gets people talking about sexual assault, and in order to learn and grow people need to be talking about it.
"SUNY Oswego may seem like a small school that can't make much difference in the world, but that's why it's so important to have these types of events here. No matter how small and out of the way an area like Oswego seems, these types of thoughts are everywhere, and they need to be fought everywhere," Crean said.
"I think an event like this brings the issues forward. I think it would be beneficial if more administration was here. If they came out, it would definitely make a difference, but I think this is the right step forward," Carbonaro said.