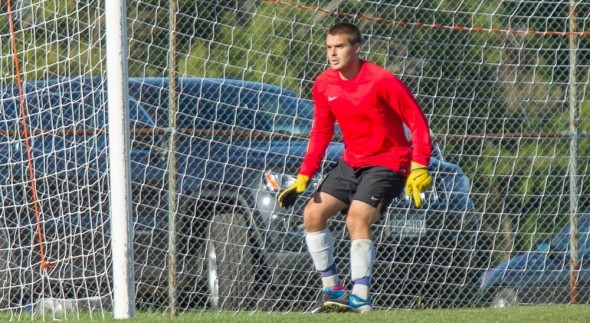 Coming off a season where it did not win a single match all year, the Oswego State men's soccer team was hoping for much better results this year. Those better results are coming to fruition with the team already having three wins, and a 2-3 record in SUNYAC play.
There are many things the Lakers can attribute to the success they are having so far. But a major one is junior goalkeeper Todd Lawson.
Lawson has started and appeared in 11 of the Lakers' 13 matches this season, holding a 1.29 goals against average, .769 save percentage and also earning two shutouts.
Last year, Lawson appeared in five games for the Lakers and head coach Robert Friske explained the situation the team had last year when it came to the goalkeepers.
"Last year, we had three brand new goalkeepers to the program," Friske said. "So it was goalkeeper by committee to give everyone a shot to see what they can do."
Friske commented on how Lawson earned the job as starting goalkeeper right from the first match of the season.
"This year really came down to who was focused right off the bat, prepared and in shape," Friske said. "Todd has been the example of leadership all year. We have to make some tough decisions sometimes. He's definitely worked very hard for his opportunity."
Senior defender Eric Widanka, who made a big impact in the Lakers 2-1 overtime win over SUNY Potsdam on Oct. 3, where he set up sophomore Josh Yager for the game winning goal in the final minute of overtime, mentioned how pleased he was with the way Lawson has played this year.
"It is great to see him make the transition from this year to last year," Widanka said. "He's got a lot more confidence, he played a lot of games last year. It is kind of his first time in SUNYAC (play). He did great last year, but this year he's really stepped up. He is a great vocal presence for our defense."
Now, for Lawson, the key to him earning this position as starting goalkeeper was due to the training sessions he did all offseason.
"Over the summer, I would do a routine where Tuesdays and Thursdays, I would go see my physical trainer, Joe Shields, out of Albany, N.Y. Probably the best thing I could've done," Lawson said. "Every other day, that I was not in the gym on Tuesdays and Thursdays, I was running, and then weekends I was usually getting some touches on the ball."
Friske also mentioned what Lawson has meant to the team on things that do not appear on the scoresheet.
"He has become a leader because he is really good with the kids," Friske said. "Even last year as some kids got some time around him, he was always positive and he is an example of character, sportsmanship and athleticism. He's thriving in this environment."
With the way Lawson has brought his great play on the field and leadership, on and off the field., the team has improved immensely. But that is also because of the way the offense has performed lately. Widanka explained how the offense relies on the defense and the goalkeeper, as well as vice-versa.
"Defense and offense goes both ways," Widanka said. "When we are playing good offense, we can play defensively in their third better. So that gives them less opportunities to get the ball down the field and as good defenders we get possession of the ball. We are able to move it with good passing. Todd has great outlets to the offense, there is great correlation between the two of them."
Lawson also knows how important the offense is to his play as well. He attributed the rest of the team to his success this season
"I put it on my teammates," Lawson said. "We always put a lot of stress in the idea of family going into this year. It is how it has to be. I always count on them to make their big plays, and they definitely count on me to put up my best performance."
For Friske, it is all about how the team has been working together efficiently from the start of the season. More importantly, because of the teams the Lakers have to face throughout the year.
"A lot of that comes down to how the kids come in right from the get-go," Friske said. "We're in one of the toughest conferences in the country. If we're prepared when we walk in, we can have a successful September and October. But we have been working really hard to become a very good team and it is starting to come together at the right time."
That right time is coming at the perfect time as Oswego State has just four matches left in the regular season. Three against SUNYAC opponents on the road, with two of them coming up this weekend on Friday against SUNY Geneseo, and Saturday against The College at Brockport.
For the Lakers, they are looking to just take it game by game, something that Widanka agreed with and he is looking at these two matches against conference foes this weekend as a big time for the Lakers to earn good results.
"That is what we have been doing all year," Widanka said. "Our next one is Geneseo, we cannot focus about Brockport on Saturday. First up is Geneseo, it is a must win for us. Every weekend we have an objective of getting six points out of it, at the very least two points."
Widanka referred to how in collegiate soccer you are given points based on the team's result. With a win being worth three points, a tie being worth one point and a loss being worth zero points.
Lawson also commented on the importance of this weekend as these matches will give the Lakers a better position as they head into the SUNYAC Championships coming up in a few weeks.
"This weekend is probably the most crucial for us," Lawson said. "We got Geneseo and then we got Brockport right after that. We need to get two results this weekend. If it's a tie, it's a tie. If it's a win, it's a win. We need to come out with points. We say each weekend especially like last weekend where we had Fredonia. That was by far, our biggest focus and then obviously Buffalo State next. Everyone's just got to stay focused on what they need to do and hopefully going into this weekend we all keep our health, nutrition and our mind focused and get the job done."
That focus for everyone on the men's soccer team will tell the tale on how far this team will go as the final stretch hits. One thing is for sure: The Lakers know they have a great support system in all parts of the lineup, especially when it comes to the man in the net.