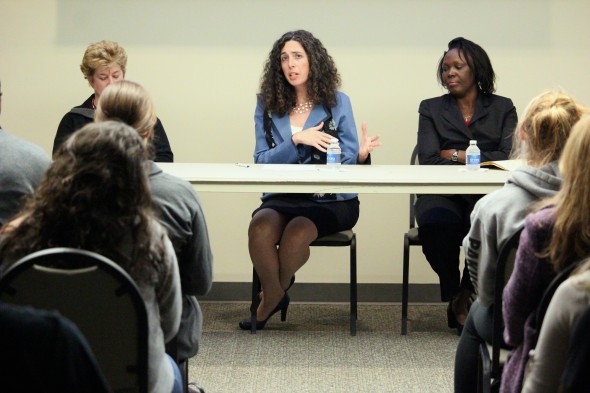 Thomas Eric Duncan, the first man diagnosed with the Ebola virus outside Africa, died Wednesday morning. The disease, which began as a viral outbreak in western Africa this summer, has risen to become an international emergency. The concern for public safety around the world has reached beyond the immediate hot zone of the disease, Nigeria, Liberia, Sierra Leone, Guinea and Senegal, and has now entered U.S. borders.
A panel of health experts came to Oswego State to discuss issues surrounding Ebola Wednesday, hours after the U.S. Centers for Disease Control and Prevention announced Duncan's death. The panelists included Gwen Kay, an Oswego State history professor and historian of medicine; Dr. Sharon Ekure, a Nigerian physician doing residency at Oswego Hospital; and Diane Oldensburg, a representative from the Oswego County Public Health Department. The panel was organized by history professor Uyi Usanlele and sponsored by the history department and the peace and conflict studies program.
Kay told those in attendance about the first serious outbreak of Ebola in 1976. According to Kay, the fatality rate for someone who caught Ebola at that time was 90 percent. The origins of the disease came from what is now the Democratic Republic of Congo. The disease is actually named after the Ebola River, the largest river in western Africa and the second largest on the continent.
Ebola is not an airborne disease and can only be spread through the exchange of bodily fluids of an infected human or animal.
"In many ways, it reminds us a lot of the SARS disease that hit China a few years ago," Kay said.
The Severe Acute Respiratory Syndrome Coronavirus (SARS) was an outbreak during 2002 and 2003 that originated in China and spread throughout other parts of Asia, Europe and North America, according to the American Society for Microbiology.
Dr. Ekure showed attendees to the discussion a presentation she prepared about the virus. She said that while Ebola remains to be a non-airborne disease, there is concern around the world that it could mutate, as some viruses do, into one that is airborne-spread.
Those who are most prone to the disease at this time are the healthcare providers that venture to the hot zone to help those already infected, family members and close friends of those who have been diagnosed that may have come into contact with them and animal care workers.
Ekure discussed the process of diagnosis for Ebola. A person who has a very high fever would be asked about their health history and would endure a physical examination. That person would then be asked about their recent travel history and would undergo laboratory testing.
"Early diagnosis with patient treatment soon afterward is very important," Ekure said.
Ekure confirmed that there is currently no treatment for Ebola, and infected people undergo a fluid and electrolyte replacement.
Ekure said treatment in the African nations is difficult because they are economically poor; their health care systems are not as experienced or advanced, people live in poverty and fear and cultural beliefs play a role as well.
"Schools are being closed in those countries," Ekure said. "Agriculture and mining have slowed down substantially and entrance into those countries at their borders has, of course, slowed down as well."
On Aug. 8, the World Health Organization deemed the Ebola outbreak in West Africa as an "extraordinary event and a public health risk to other States."
Ekure urged that international attention must be brought to the issue.
"A coordinated international response is deemed essential to stop and reverse the international spread of Ebola," Ekure said.
County Health representative Diane Oldensburg then spoke to the attendees, saying that the outbreak is being taken extremely seriously in every part of the country, not just Dallas, Texas and the surrounding area, where Duncan was hospitalized.
"We ourselves have gotten a few calls regularly asking about it over the last few weeks," Oldensburg said.
Oldensburg said Oswego County had 702 cases of infectious diseases last year, cases that have to be reported. She said Oswego Health has received recognition for its performance in these sorts of things.
"And starting Oct. 10, all hospitals are being sent someone so their staffs can run a mock test on them so they know how to respond, should they suspect an individual has Ebola. We're still learning, but I think the public health system is up to the challenge," Oldensburg said.
Oldensburg discussed that even Oswego cannot be ruled out as a place for a possible case in the future. She said there are multiple ship routes from the African coast that run up to the entrance of the St. Lawrence River and eventually end up at the Port of Oswego.
The discussion closed with a question and answer session, some of which regarded the U.S.'s response to the outbreak.
According to the White House, as of Oct. 6, the American government has deployed 130 civilian medical healthcare and disaster response experts from multiple U.S. government departments and agencies as part of the U.S. Agency for International Development's (USAID) Disaster Assistance Response Team as well as approximately 350 U.S. military personnel. This constitutes the largest U.S. response to an international public health challenge.
"If we want to prevent more cases in the U.S., we have to invest in stopping the atrocities in Africa," Oldensburg said.
According to the WHO, 8,000 people in Liberia, Sierra Leone and Guinea have been infected with Ebola and as of Oct. 8, the death toll now stands at 3,857.