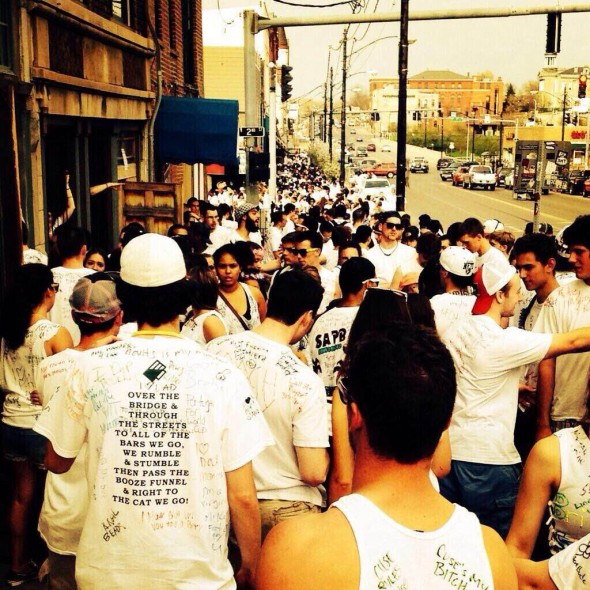 In the wake of the death of an Oswego State student and hospitalization of two others due to heroin overdoses during last spring's annual bar crawl Bridge Street Run, Oswego State President Deborah Stanley and the Student Association have worked together in proposing an event with a concert on campus, featuring a widely popular artist, as an alternative event to Bridge Street Run on May 8, 2015.
The SA senate has been discussing a resolution that would take $150,000 out of SA's reserves to fund such an event.
"SUNY Oswego does not host, sponsor, promote or benefit from the Bridge Street Run," Stanley said. "It is a community event that has proven a hazard to our students. SUNY Oswego always promotes health and safety and denounces abuse of alcohol and other drugs. I pledged last May that we would redouble efforts to discourage intoxication. One of these efforts is to have an attractive alternative celebration on campus for our students to enjoy safely before they buckle down for their final week of exams."
Brian T. Tumolo and Gabriel A. Gonzalez were arrested in connection to the overdoses on May 10 and May 12, respectively, and were charged with third-degree criminal sale of a controlled substance. Tumolo was charged with two counts of a Class B Felony. Two people were also injured in a trolley accident the night of Bridge Street Run. On May 12, the Oswego City Common Council voted to ban the bar crawl for 2015 and passed a resolution authorizing the City Chamberlain to bill the school for overtime expenses incurred by the city Department of Public Works, Oswego city police and fire departments related to the Bridge Street Run. The pub crawl has been a tradition since the 1960s and has always been held on the last Friday of classes during the spring semester before finals week.
SA President Tucker Sholtes informed the SA senate of the provisions for a large event to take place on the same day as Bridge Street Run during the senate's first weekly meeting in mid-September. Resolutions on an event have been examined by the senate since then.
"I believe that this is an idea that a lot of individuals thought about after how out of hand BSR was this past semester," Sholtes said. "Some administrators brought the idea to my attention and I realized that it is an area in which the Student Association could lead the charge in creating an event that wows the student body while also fostering a new end of year celebration culture on our campus."
Sholtes said the details for an event are still in the preliminary stage and are not yet completely determined at this time but he promises that it will be an "unprecedented event."
Along with a large concert, the proposition
includes moving the events and celebrations of May Day, annually held on the Sunday before the last week of classes, to the same day as Bridge Street Run.
"A lot of event space-coordination will have to take place as well as increased staffing," Sholtes said. "While this may prove difficult at times during the planning process, I am confident that the individuals involved have the knowledge, passion and resources to make sure that it is a successful event."
Oswego State senior Raven Reese said she likes the idea of students having a choice on the day of Bridge Street Run, but is concerned about the $150,000 being spent.
"It's a great idea to offer a different option on the day of Bridge Street Run, but I think that ultimately that large sum of money will be wasted," Reese said. "BSR is a tradition that students look forward to every year. I'm of the opinion that this money could go toward other clubs or organizations that get pushed to the wayside rather than gamble on a first-time concert that may or may not be successful."
The heart of the controversy regarding the city's ban of Bridge Street Run among students is the argument that the heroin overdoses and other incidents were not directly linked to the event itself.
"I know the students involved in last spring's heroin overdoses, and I truly believe it was an isolated incident unrelated to Bridge Street Run," Reese said.
The Oswego City authorities also reported the two incidents as unrelated.
"In terms of the heroin to the Bridge Street Run, we feel the heroin was a separate incident," Oswego Police Sergeant Damian Waters told Time Warner Cable News shortly after the student's death had been reported. "Were some of the people involved with the Bridge Street Run using heroin? Yes. But generally the Bridge Street Run is a pub crawl and not a heroin or narcotics party," Waters said.
An alternative event to Bridge Street Run would cost Oswego State students money to attend and will most likely be higher priced than previous concerts the campus has put on.
"At this time, a price for tickets has not been determined," Sholtes said. "We are looking at ticket prices being a bit higher than previous years in order to help ensure that we have the ability to bring a big name act onto campus. Based on past years surveys it is evident that students seem willing to pay more for a big name concert. And we want to deliver on this desire."
Reese said a concert artist would have to be very big to pull students away from an event that has such strong traditional proportions among many students.
"I think having to pay for the concert will only help in swaying those students who are undecided to attend Bridge Street Run instead," Reese said. "It's not as though it's unrealistic to ask for students to pay for tickets, but there are many benefits in a student's mind in participating in Bridge Street Run. To many, it's one of the most important events during his or her time at Oswego. It's certainly memorable."
Sholtes reported in an SA meeting that students would be able to purchase a discounted three-week-in advance ticket for the concert. The usual May Day events of the day would continue being free of charge. The profit from students would get recycled to use for a similar event the following year.
Because of the event's extraordinary size, Sholtes also told the SA senate, in a prior meeting, that University Police, along with an outside security agency, would be brought in to maintain order in the concert space. The concert would most likely be held at the South Lawn, between the Marano Campus Center and Cooper Dining Hall, a space that Sholtes said can hold a capacity of 3,500 to 5,000 people.
More details on the alternative event will come in the future as different organizations, committees and the administration work to prepare for this event.
"If we are able to host an event that is attractive enough to students, I believe that they will see the value in staying on campus," Sholtes said. "Who doesn't want to be able to tell their friends that their school hosted a mind blowing concert? Students should be open minded about the possibilities that lay ahead for the tradition of end-of-year celebrations."