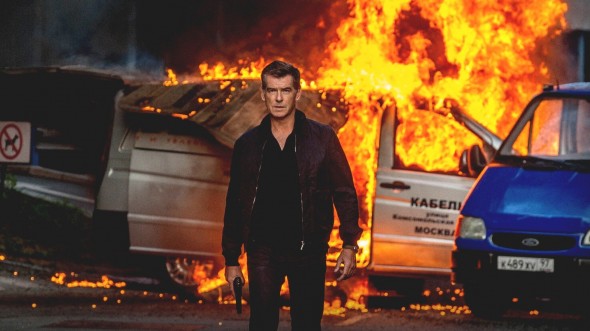 "The November Man" returns Pierce Brosnan ("A Long Way Down") to the world of high-stakes espionage, killing and thrilling his way through a number of refined European settings as CIA agent Devereaux. However, he is playing a very different man than Bond: More gravelly than suave, a vulnerable man who feels his age and regrets many of the sacrifices he had to make in the line of duty. Still, he's as tough, efficient and brash as any 007.
A visit from an old colleague (Bill Smitrovich, "Ted") pulls Devereaux out of retirement, and after a tumultuous visit to Moscow, he becomes the third player in a spy-game between the CIA and a deadly Russian assassin as they compete for a secret that could undermine the runaway presidential campaign of a former Russian general. This puts him head-to-head with Mason (Luke Bracey, "G.I. Joe: Retaliation") a young CIA marksman he used to mentor.
The plot of "November Man" is a bleak mish-mash of East-West antagonism, culminating in a frankly ridiculous conspiracy revelation. It enjoys how confusing and bleak it is. Every character wallows in moral grayness, either a hypocritical and unfeeling bureaucrat of the surveillance-state, or death-dealing intelligence goons who shoot at each other across the washed-out color pallet of sad Eastern          European cities.
As far as being a spy thriller, it thrills. It shoots, it explodes and it simmers with passion. There are a few nice gut-wrenching, edge-of-your seat moments. The relationship between Devereaux and his former protégé is compelling, mainly because of Brosnan's performance. He is without a doubt the best part of this movie. He plays his part both rough and tough, yet emotionally raw. The best acting scene is a tense, psychotic stand-off between a drunk Devereaux and Mason, where Brosnan really gets to take his character off the rails.
The thing is, "November Man" won't take you anywhere unfamiliar to a spy movie of the last 10 years. While it is not bad, it is very, very average. Tonally, it fits right in with the gritty, war-on-terror era films that followed "The Bourne Identity." However, it lacks the intense physicality and uncompromising violence that drove the "Bourne" franchise and made that film feel so fresh when it came out. Lacking that, "November Man" is a drama of horrible men doing horrible things to achieve an abstract political goal, with a bunch of underwhelming action scenes to mix it up. For Brosnan, "November Man" is akin to Sean Connery's "Never Say Never Again," and may be the last time he goes on screen as a secret agent.