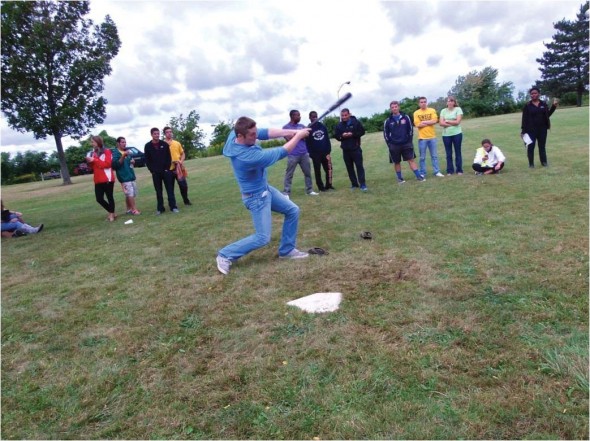 On Saturday, Sept. 6, Campus Recreation and Residence Life and Housing co-sponsored the Lakerfest Home Run Derby.  The event took place from 1 – 3 p.m. on Cayuga Field.
Although the weather did not come through as hoped, participants remained lively and energetic throughout the event.
Each team of two was allowed 30 pitches, 15 for each participant.  The prize for the highest number of homeruns at the end of the tournament was a championship t-shirt. The winning team of the day included Tyler Gornick and Theodore Phillips, with a home run       high of 17.
Campus Recreation intramurals have officially started. The 5 v 5 beach volleyball league began on Sept. 5, while the soccer and softball leagues began on Monday.
The beach volleyball league will be heating up this weekend, as the co-rec competitive, co-rec recreational and men's competitive leagues finish up regular play and advance to playoffs.  Just Had Sets and Rack City look to be tough competitors in the co-rec competitive league.
The softball league started on Monday and will continue regular season play until Thursday, Oct. 2.
In the co-rec competitive league, The Tides lead with two wins.  Although it may seem too early in the season to judge who will dominate in the men's competitive league, it looks to be a fight to the playoffs.  Within the 14 teams participating, Team Phoenix has caught attention.  The team shut out TMT, 23-0.
The outdoor soccer league also started season play on Monday.
An exciting game played out between Monstars and De Royals in the co-rec recreational league.  De Royals started the game off with a goal by Kevin Moreno.  The Monstars responded with two goals of their own, scored by Matthew Beisner.  De Royals came back with three consecutive goals, one scored by captain Thomi Kamilla and two by Ricardi Jean, for the win.
"It was a good first game," Kamilla said.  "My team played really well. I'm proud of them."
In the men's competitive soccer league, Sons of Jeffery pitched a shutout against We Always Finish, 4-0.  Goals were contributed by Captain Hartley Ruch, Brandon Comden and Adam Crumb.
On Saturday, Sept. 13, Campus Recreation & Lifestyles Center will co-sponsor the annual O-Mazing Race.  The event will begin at 1 p.m. on Lee Hall Field.
The unique race will consist of seven events that will challenge participants both physically and mentally, while getting them wet and dirty.  Activities include pushing a tire downhill, piecing together a life-size puzzle, an obstacle course, kayaking and a mile run with a weighted object.
"The event was really successful last year," the special events assistant for Campus Recreation, Kadeidra Brown said. "I think the race is a great replica of The Amazing Race- it tests people's physical and mental stamina, which is unlike any other event we do here on campus."
Snacks and water will be provided to participants during the event.
Teams of two are required and include women's and open divisions.  The race is limited to 30 teams.
Prizes include $200 total for first place teams and $100 for second place teams in both divisions.
For more information about Campus Recreation programs, building and pool hours, visit oswego.edu/campusrec or call Lee Hall at (315) 312-3114.  You can also find them on Twitter (@CampRecreation),  Instagram (oswegocampusrec), and Facebook (facebook.com/camprec).