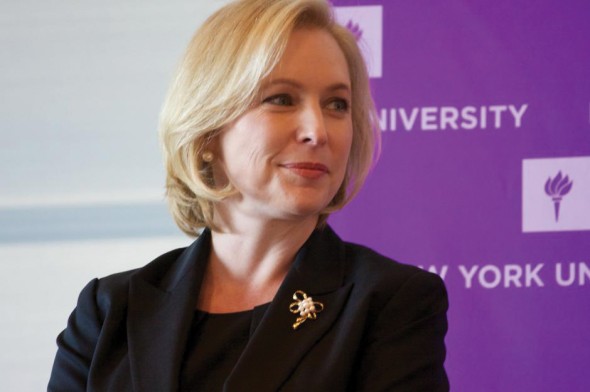 Sen. Kirsten Gillibrand, D-N.Y., last week announced she is proposing a bill that would provide $109 million in federal funding for combating sexual assault on college campuses across the U.S.
"The price of a college education should not include a one in five chance of being sexually assaulted," Gillibrand stated. "And it is simply unacceptable that going to college should increase your chance of being sexually assaulted."
If this bill were to pass, college campuses like Oswego State would receive funding to help in the investigation of sexual assaults and in enforcing already-existing laws prohibiting them, such as Title IX.
Title IX is a federally enforced anti-discrimination law that states, "No person in the U.S. shall, on the basis of sex be excluded from participation in, or denied the benefits of, or be subjected to discrimination under any educational program or activity receiving federal aid." Oswego State's information page about Title IX explains that these programs or activities include "academic and athletic programs, financial aid and student records and accounts, health and counseling services, and housing and residence life programs." Title IX also prohibits the crime of sexual assault, according to the page.
Lisa Evaneski, associate dean of students for Student Conduct and Compliance and Oswego State's Title IX coordinator, said that along with Title IX, there are a few other legislative mandates in effect on this campus that require the administration to provide education, investigation and services. Evaneski said she would approve of this approval if it furthered campus programs that provide these services. If Oswego State were to receive funding from Gillibrand's bill, Evaneski said in an email it would make a positive difference if it were to "provide education and training and staffing that would respond to sexual assault in a way that's more helpful to students."
Maureen Curtin, an associate professor in the English department and an adviser to the Women's Center on campus, also supports Gillibrand's proposal, but only insofar as if the funding will be used to improve or change the system that currently handles cases of sexual assault on Oswego State's campus.
"Increased funding and staffing could certainly make a difference in the capacity of the Office of Civil Rights to investigate and enforce Title IX," Curtin said in an email. "But changes at this level don't seem to address an immediate problem that universities, like the military, have. In both institutions, the structures of reporting and investigating inevitably entail conflicts of interest."
Curtin also said that because colleges are treated and conduct themselves like corporate entities, sexual assault is often seen as damaging to their "brand."
"No campus wants to be known for high rates of sexual assault," Curtin said. "Miraculously, though research suggests that the incidence of sexual assault on U.S. campuses is quite high, most Clery reporting from universities indicate extremely low rates."
The most recent Clery report for Oswego State, from 2012, recorded six incidents of forcible sexual offenses. This is a slightly higher figure than previous years, five in both 2011 and 2010, but still, Curtin said, much lower than what the research suggests it should be.
"The problem, we're told, is under-reporting," Curtin said. "A 2010 report from SUNY Geneseo … discovered that one of the single greatest deterrents to reporting sexual assault is the perception that university officials will not take claims seriously."
Though Curtin said she would prefer to see a system similar to what Gillibrand proposed for the U.S. military, which would have operated outside of the traditional chain of command, put in place to investigate and enforce laws against sexual assault on college campuses, she said she would like to see Gillibrand's new proposal help provide more sexual assault education on college campuses.
"One step toward a radical change would be to require that students complete coursework that contests fundamental sexual bias," Curtin said.
One resource for education about sexual assault already operating on Oswego State's campus is the Women's Center. Kendi Kajogo, a junior studio art major and member of the Women's Center, said that she hopes Gillibrand's proposal will pass and lead to not only increased education for the entire campus, but also more protection for the students on campus. She said that forms of protection that already exist on campus, like the Bluelights, aren't easily accessible.
"I don't know where they are, I don't know if anyone can tell you where they are. They're not easily identifiable," Kajogo said. "I feel like, even though there's UP, I don't necessarily feel protected on campus, even with all these things they offer us."
Kajogo also said that aside from more education about sexual assault being provided on campus, the mechanisms for reporting sexual assault need to be improved as well so more students are encouraged to report. Kajogo expressed similar concerns to Curtin's about the issues of underreporting, or ignored reporting, of cases of sexual assault on Oswego State's campus.
"I know there was someone who was on the Women's Center e-board who experienced something like this," Kajogo said. "She was assaulted, on campus, she did everything right—like she immediately went to the police, she took pictures, she was like, 'I wanna press charges, I know who did it,' and she followed up with it, and the police were like, 'we don't have time for this, we don't care, you're bothering us,' basically, and she never got to press charges and nothing ever came of it, even though she tried very diligently to see this whole process through."
The specific nature of the increased education Kajogo would like to see spawn from the bill included a better review of the resources available to those who are sexually assaulted on campus so they can be helped. Kajogo said that while the Women's Center does aim to raise awareness about sexual assault and how to respond to it, she would like to see it be required education for everyone on campus.
"The Women's Center in particular hosts two events," Kajogo said. "'Take Back the Night' and 'Slut Walk,' both that are aimed at raising awareness for sexual assault causes and making it be known that it should be okay for a woman to walk out at night wearing whatever she wants and to feel safe."
Kajogo also said the Women's Center offers counseling sessions and referrals to clinics like Services to Aid Families.
"We're just meant to be a resource for the community at large," Kajogo said.
Whether Gillibrand's bill will pass is up in the air. Last month she proposed a similar bill to fight sexual assault in the military that had nearly full backing, with 55 senators, including 11 Republicans, supporting it, but it still fell five votes short of what was needed to make it through the Senate. If Gillibrand's bill does pass, advocates against sexual assault at Oswego State will be waiting to see what effects, positive or negative, it will have on the campus.
"It shouldn't have to get to that point where young girls have to fight so hard to get themselves to be heard," Kajogo said. "It should just come naturally, like, 'I've been abused, I've been assaulted, help me.' It really should be that simple. So, hopefully if Senator Gillibrand's legislation passes we can make it that simple."