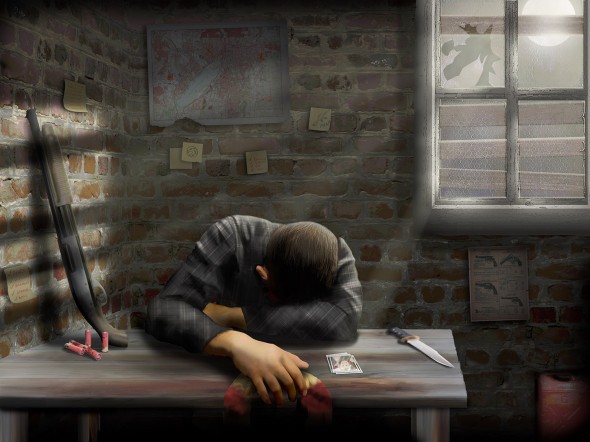 Graphic Flash will open at the Oswego State downtown on April 26 at 2 p.m. This is the third semester that students from CRW 406 and Art 313 have collaborated to create a gallery of stories transformed into images.  The writing class produced flash fiction stories of less than 250 words and sent them to the digital illustration class. It was then the artists' jobs to capture the essence of the story in one picture. Starting this Saturday, the stories and art will hang side-by-side, and stay open to the public until May 24.
The students who worked on it this semester are eagerly awaiting the opening. Senior Jessie Brandt who made the illustration "Death of the Game," is a teaching assistant for Art 313.
"I really want to see everyone's reactions," Brandt said. "I'm working on formatting the written work, and I might be working on installing it too. I want to hear their thoughts of how the story works with the illustration, or what they perceived it as. Also, seeing the illustrators meeting the writers will be interesting to see."
In her approach to adapting another person's creative work into her own art, Brandt took lessons from a simultaneous project.
"I'm doing client work for Stronghearts Café, and we're supposed to be working with the English department," Brandt said. "They're writing about famous people that the milkshakes are named after at the café. So, that's another way of using another person's writing for illustration."
For Senior Olivia Martinez, who wrote "Black and White," the gallery will be a public debut of work she considers "experimental."
"It's been different," Martinez said. "Usually, I'm used to writing long novels instead of very short stories, so it's been a learning experience for me. I've drawn on some of my strategies for poetry. I've been told a lot of my poetic voice is going into my stories, and a lot of my stories' voices have been going into my poetry; they're starting to merge. I'm not sure if it's a good thing yet."
Film students also took part in the project by adapting the flash fiction stories into short films. They will be shown in the Campus Center auditorium from 5:30 p.m. to 6:30 p.m. on April 28. At the same time, there will also be story readings and projections of the film. Senior Jacob Wilson made "Jawbreakers," the video for a story which happened to be written by a friend of his.
"I asked her if she would want any part in helping in it, but she was like, 'No, I just want to see how you do your take on it,'" Wilson said.
While Wilson is accustomed to writing his own scripts, he had fun bringing someone else's vision to life for a change.
"I enjoyed it, because it gave me a set thing I needed to do, but a lot of people ended up changing theirs. Mine was just really specific stuff that I was able to do," Wilson said.
Each discipline had a new challenge and something to learn this semester. It's especially exciting for writers, who will see the art and the films for the first time.
"I'm dying to see everything already. You don't even know!"     Martinez said.
Oswego State downtown is at the corner of West Bridge Street and West 1st Street, across from Global Buffet. Creative minds will meet to enjoy each other's art and some free food. What's not to like?