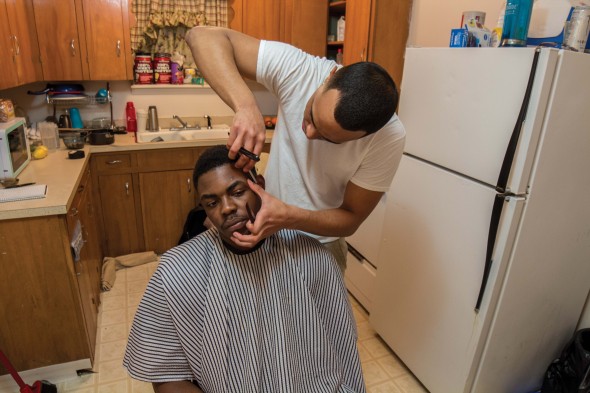 Despite having a dynamic population at Oswego State, students in the underrepresented groups remain limited in resources for their hair and appearance – on and off campus.
The freshman class of 2013 at Oswego State enrolled 1,400 students, and 71 percent of those students are White, compared to the 18 percent of the class, which is Black (7 percent) or Latino (11 percent).
The diversity of Oswego State is leaps-and-bounds superior to that of Oswego County. While the State of New York is 18.2 percent Latino and 17.5 percent Black, Latinos and Blacks make up 3.2 percent of Oswego County's population combined.
Oswego County is far from an urban area, but when a school the size of Oswego State pulls in 35 percent of its most recent class from downstate New York – 12 percent from New York City alone – it calls into question whether or not the surrounding area of the university is meeting the needs of such a large chunk of the student population.
Oswego County is 96.6 percent White, and the majority of business owners are White men. It has been documented by the U.S. Census that while the rate of black-owned, non-farm businesses in New York tripled the national rate from 2002 to 2007, over that same stretch, the number of black-owned businesses in Oswego County has produced numbers that fail to meet "publication standards."
While there are plenty of people living in Oswego County who are not endeavoring to own a business, what everyone has in common is, to a certain extent, hair.
There are many fundamental differences between Caucasian and Black hair. Many of the popular salons and barbershops in the city of Oswego are owned by White people, which has helped fuel the perception that there is nowhere for Blacks and Latinos to get their hair done. Minority students are forced to consider spending extra money to travel to Syracuse, a more diverse city than Oswego, or even wait as long as their next trip home, which for native downstaters can be as long as the semester itself.
A few locations are available in town for hair options. Women have places like In Vogue Salon & Spa and Sally Beauty Supply and men have Downtown Barbershop and Shave Co., in addition to Campus Cuts located in the basement of Hewitt Union.
Downtown Barbershop and Shave Co. in particular is a popular location among Oswego males, in large part to the youth of its owners Keith Hawkins and Harrison Noel and the easy-going atmosphere within their Canal Commons location. (Hawkins and Noel even offer complimentary beer on tap for all customers who are of age.)
Hawkins and Noel said they have regular minority customers and that they are well-versed in cutting Black and Latino hair.
"I think, you know, just culturally hair cuts, hair is important to guys of any race, but to a lot of black guys, a lot of Hispanic guys, so they're real hesitant on going to somebody new," said Noel, who explained that along with Hawkins they went to school in the Rochester area and are knowledgeable in ethnic hair. "We are confident in what we do…usually when they come in once, they'll keep coming in."
In many cases, however, minority students at Oswego State are paying other students to do their hair or simply doing it themselves.
Most students are not professional hair stylists, and when they attempt styling their own hair, horror stories can occur, as senior Ashley Freeze recently found out. This creates demand for students on-campus with experience like senior Maame Hayfron.
Sitting in Hayfron's room, Freeze nervously touched her hair as Hayfron cut the sections that were damaged during a styling attempt.
"Had there been a salon in town that I could go to, that could do my hair, maybe I wouldn't have burnt my hair to the point where I have to cut it," Freeze said. "Our options are very limited and you kind of just have to fend for yourself."
A resident assistant in Oneida Hall, Hayfron usually does not charge students for hair assistance unless it is a longer process. Hayfron said it all started when she began helping girls with hair styles for events and was then asked for specific hairstyles.
"I always do it on my hair before I do it on someone else's hair," Hayfron said. "If I'm doing extensions, which take like eight hours, I will definitely charge you."
Halfway through cutting Freeze's hair, the RA phone rang. During the break in which Hayfron answered the phone, Freeze turned around and admired her work, evidently happy that the disaster was fixed.
Students like Hayfron, or junior Bilikiz Adebayo, make a modest business during the semester by spending many hours a week styling the hair of friends and peer students. Junior Charlene Murray came to Adebayo to have her hair braided, a process that can take hours and spill over into multiple days.
With its pink bed sheets, Murray's room in Hart Hall makes an unlikely hair salon, but Adebayo appeared comfortable as she sorted out the hairpieces and braids in a surprisingly fast speed.
"When I started working at a hair salon over the summer, I learned more like how to do it professionally, 'cause everybody could do this but not everyone can make it look good," Adebayo said. She said she usually has one or two students every two weeks but when events are coming up there is a bigger demand.
For Murray, even though she is from Syracuse, coming to Adebayo was the best option for her hair.
"Still in Syracuse there's not even like a lot of options because it's expensive too," Murray said. "I depend on myself a lot."
In the case of Sean Ebanks, he markets his services to New York City natives, a key demographic within Oswego State's minority student population. Ebanks strongly believes that barbershop options in Oswego offer "just a haircut," while his work is art.
"One thing I worried about is how would I get a haircut, because where I'm from, a haircut is every week," Ebanks said. "I thought for a second and all I saw was dollar signs."
Ebanks then spent money on hair equipment and watched YouTube tutorials.
"I didn't tell anybody I didn't know how to cut because sometimes you just gotta tell a white lie, but it worked out so good," Ebanks said. "I was cutting in Scales, out of the Scales bathroom…look at me today, still cutting."
Ebanks—and his home grown barbershop, NYC Styles: Fresh Cutz, which resides in the kitchen of his Oswego apartment—has an appeal that rival barbershops have a tough time competing with: atmosphere. As the line forms outside his barber chair on any given Friday evening, there is loud chatter, men playing chess and talking about sports and music, and many loud jokes.
Most importantly, there is an urban energy to Ebanks' set-up; it feels like New York City in his apartment.
Ebanks manages his side business through a Facebook page where members can sign up for slots for every Friday.
Working on Oswego State student Sunday Bamgbose's hair, Ebanks exclaimed that he does not just cut to get the hair out of the face.
"Everybody knows about Sean," Bamgbose said, nodding. "In Oswego, I haven't really tried to risk losing my hairline and going to other places."