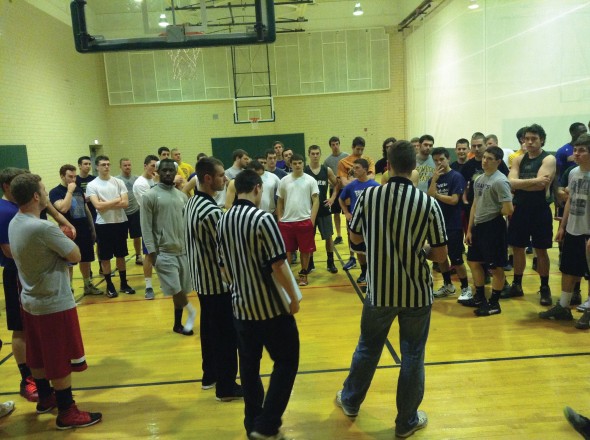 The open recreation floor hockey started this past weekend and will take place in Swetman Gymnasium on Saturdays from 11:30 a.m. to 2 p.m.
Interested participants need to bring their Oswego State I.D. Equipment will be provided.
The Delicious Nutritious Cooking Class will take place on April 25 from 2:30 p.m. to 4 p.m. in the Hewitt Union kitchen. The event will be directed by Sara Formoza, Registered Dietitian and is cosponsored by Campus Recreation and Auxiliary Services. Registration ends Tuesday, April 22.
Don't forget to sign up for the Color Oswego Fun Run and Walk! The online registration deadline is April 30 and is limited to the first 300 participants. On-site registration takes place May 2 from 3:30 p.m. to 4:15 p.m. and the event starts at 4:30 p.m. outside of Glimmerglass Fitness Center. There is a $3 fee, which can be paid for at the event.
As for current intramural sports, the men's competitive team handball league provided an intense set of games in the Romney Field House on Sunday night.
Phi Tau started off the night with a 9-2 victory over #SenecaBoyz. Joseph Patyi led the offense for Phi Tau with six goals, followed by Greg Finger, who added three. Team captain Niko De Laurentiis and Tyler Perez each scored a goal for #SenecaBoyz.
Lee Hall Legends outlasted The Guild in a tough battle, earning a hard-fought 9-6 victory. Quinn Rasmus Joe Fabian scored four and two goals, respectively, for Lee Hall Legends.
Gerald Holmes, Daen Riviere and Daniel Ross also contributed to the scoring. Matt Sheffer led The Guild with three goals, followed by Dave Russell with two and William Reese with one.
In the next game, Scott Van Pelts defeated Whoskerdoos, 6-3.  Scott Van Pelts' offense was led by Ryan Thayer and Tyler Wilch, each scoring two goals.
Josh Stuper and Andrew Malaney also added goals. For the Whooskerdoos, Matthew Brooks, Kevin Dennis and Dan Hogan each scored one goal.
Rolltiders faced off against Chode Face Killaz and grabbed with an 8-4 win. Captain Paul Hamish and Griffen Sheridan led the Rolltiders with three goals each. Jackson Haber and Josh Argus each scored two goals for Chode Face Killaz.
In the final game of the night, The Ancient Hawaiians grinded out a 4-3 win over team Rockets. Mike Cocozza and Tanner Stewart of The Ancient Hawaiians scored two goals apiece.  For the Rockets, Daniel Karleski scored two goals and Dylan Kohlman scored one.
Meanwhile, Campus Recreation hosted the 2014 Hot Shot and Dunk Contest last Thursday in Swetman Gymnasium. The Hot Shot contest was the first event of its kind for Campus Recreation.
Participants had one minute to score as many points as possible with access to only two basketballs.  Among the fourteen participants that registered, senior Ryan Dadey took the crown.
"I didn't really prepare," Dadey said.  "I just came in and wished for the best."
In the slam dunk contest, three participants faced off for the T-shirt prize.  Senior Bobby Nollet used his 360-degree dunk to take the championship.
"I just came in, warmed up, and went for it," Nollet said after the contest. "I could do it in high school, so I thought I would give it a try now."
In the 3-on-3 tournament, 23 teams registered in hopes of cutting down the net. Thirteen teams were in the competitive bracket and 10 teams took part in the recreational bracket.
In the recreational bracket, Easy 1st Round held tough through the bracket, taking down Ball Is Life in the championship match. The team consisted of Dan Grossman, Ryan Haas and Justin Rodrigez.
In the competitive bracket, Lee Hall Legends proved they were basketball's elite. After a first round bye, the Legends worked their way through the bracket to meet the Jellyfish in the championship game.
After a tough battle, the Lee Hall Legends took the crown. The team consisted of Scott Seiter, Gerald Holmes, Alex Reyes and Jahmeer Rollin.
For more information regarding all Campus Recreation news and events visit oswego.edu/campusrec or call Lee Hall at (315) 312-3114.