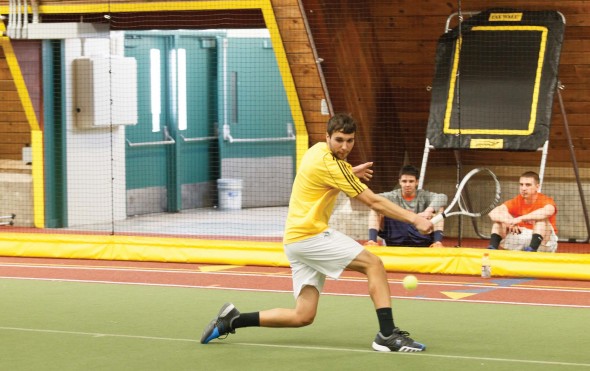 The Oswego State men's tennis team picked up its first win of the spring season with a victory over Keystone College on Monday at Romney Fieldhouse, 9-0.
The win comes after more than a month of not playing due to cancelations and postponements because of  poor weather conditions.
Head coach Robert Friske said his team was looking forward to getting back on the court.
"They're itching to play, but it's been a blessing to have the Romney facility to continue to practice in an appropriate facility," Friske said. "The kids are really improving greatly because we're practicing regularly. The wait hasn't been too hard to handle because we've been able to play good tennis during practice, waiting for our matches."
The match started off well for the Lakers as the teams hit the courts. All three doubles teams won their matches in the pro-set format.
In first doubles, senior Ben Weiss and junior Mike Owens defeated Keystone's Abraham Shagoury and Michael Hull by a score of 8-5.
"We made some errors, but so did they. We were happy to pull out the match." Owens said
Junior Tim Van Hine and freshman Spencer Thorn won in the second doubles against Brandon Newsome and Dan Anderson, 8-2.
In the third doubles match, Laker seniors Max McCune and Sam Carges shutout John Masten and Tyler Cavalari, 8-0.
The seniors continued to play well as play turned to singles as Weiss defeated a competitive opponent in Shagoury in the first singles match. Weiss gained the upper hand with his precision and was able to pull the match out in two sets (6-1, 6-2). McCune also won his match in the fourth singles matchup (6-2, 6-0) against Anderson.
"You know, I don't play first singles that often but I'm happy to do my part for the team," Weiss said. "This is my fourth year on the team and this is definitely the best team we've had while I've been here."
The team continued its success for the rest of the singles matches. Owens won his match (6-0, 6-2) over Hull in the second singles matchup.
In third singles, Van Hine won (7-5, 6-2) over Newsome. In the fifth singles, Thorn won (6-1, 6-0) against Masten. Then, in the sixth and final singles match, sophomore Justin D'Antonio defeated Ross Haberek (6-0, 6-0) to finish off the 9-0 sweep over the Giants.
This was Oswego State's first 9-0 win since its final match of the season last year when it defeated Keuka College on April 23, 2013.
Friske said he is pleased with the team going forward and said he is happy the seniors have been leading the charge.
"Ben is a great chemistry teammate, a very nice young man, you know we're going to miss all the seniors, Ben, Max and Sam," Friske said.
"They have been really dedicated…they have given us a ton of stability to be able to develop other players like Tim, and now Spencer, as well as Justin. They're just a great group."
With the win, Oswego State improves its overall record to 2-3 on the season and will look to win back-to-back matches for the first time this season at Utica College on Thursday.
The Lakers will not take the court at home again until Thursday when they host St. John Fisher College.