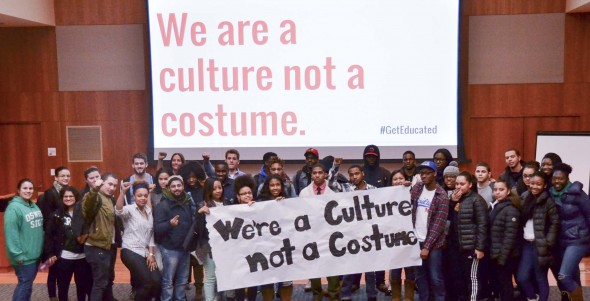 She immediately knew something was wrong. Everyone at the party seemed to be enjoying themselves and ignoring the elephant in the room. Julia Nuzzo, however, thought that it needed to be addressed, so she asked the student what his intentions were.
According to Nuzzo, the student, Christopher Van Cura, told her and other students at the party that he had been participating in a beer Olympics (a type of party involving several beer drinking games) and that he was part of team Jamaica. Because of this, he wore a Bob Marley shirt and his face was painted in black. Nuzzo said she asked him if he planned to remove the offensive paint off his face, to which he replied that he would not because he was representing Jamaica.
This party took place the night of March 1, just a day after the national celebration of Black History Month. A photo of the costume at the party made it onto social media on March 4 and sparked anger, debate and action from the students of color at Oswego State.
"When I first walked, in I saw that and I was so shocked," Nuzzo said, speaking to a crowd that assembled on March 10 in the Campus Center auditorium for the Black Student Union's emergency meeting. "I honestly believe that most of the people at this party didn't know [the meaning of blackface]. They just said 'oh it's kind of bad, it's whatever' and I think if I wasn't the one asking all these people at the party, 'how do you feel about this?' then it wouldn't have gotten addressed. And that is a real issue."
Nuzzo said to her knowledge, no one at the party found the costume funny or amusing, but no one addressed it.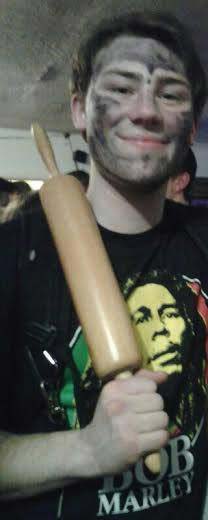 The Black Student Union brought together not only students, but faculty and staff on March 10 to discuss the usage of blackface throughout history, the effects that the costume unintentionally had on the Oswego community and what can be done to address such situations.
The beginnings of blackface go back to the 19th century theater performances, known as minstrel shows, in which white performers would paint their faces black, exaggerate their lips with pink paint, wear raggedy clothes and act like "black people." Blackface is viewed by many as being responsible for creating some of the worst negative stereotypes that still follow African-Americans and anyone of color today worldwide. Blackface later made its way into products, film and TV. Examples of this include D.W. Griffith's movie "The Birth of a Nation" (1915) which featured all of its major black characters portrayed by white performers in blackface. Regarded as one of the most influential films of the time for its innovative camerawork, it portrayed all of its black characters as stupid and sexually aggressive toward white women. The Ku Klux Klan later used the movie as a recruiting tool and it inspired lynchings and attacks toward the African-American community.
Today, blackface, or other derivatives such as brownface or redface, are frowned upon as insensitive and racist. Celebrities such as Julianne Hough have been criticized after using blackface in Halloween parties. A Penn State sorority, Chi Omega, threw a "Mexican-themed" party and their chapter was closed after an offensive photo went viral.
The Black Student Union hosted the emergency program, using hashtags #IAmNotACostume, #IAmNotYourPartyTheme, as a response to the discussions occurring on Facebook and Twitter using the image from the party. After explaining the history of blackface and showing clips from TV shows and movies an argument ensued in which the audience, including faculty members, requested to see the picture. Jerald Woolfolk, the vice president for student affairs and enrollment management, addressed the audience and said the photo will not be shown to protect privacy.
"We have to be vigilant. We have to speak up," said Susan Velazquez, the Director of Programming for the Latino Student Union. " This is my life. You can not expect me to laugh at your joke."
Throughout the meeting, students expressed their reaction to the photo, their experiences with racism on campus and concerns for the way the college handles diversity and acts such as this one.
"There's so much racism that's going on in Oswego that's swept under the rug," Somora Burgess said. "My sophomore year I was living with a bunch of girls in Onondaga and one of them said, 'oh there is an Asian here, get it out of here' like get 'it' out of here.' That's how I knew I was in the wrong atmosphere. Even this year there was a black RA that was getting bananas thrown at her door. It just happens all the time."
Students also shared their opinion on the campus announcement sent through the email regarding diversity. To Jasmine Barlow, there was no coincidence of the email and the blackface usage.
"It kind of justified the action," Barlow said.
The email sent read as follows:
"Please be reminded that SUNY Oswego's values and goals advocate a broad degree of human understanding among its community members: students, faculty, staff and alumni.  We seek to enroll and engage a diverse population of students across diverse cultural and national experiences. A vibrant, productive learning environment requires a richness in the variety of voices and life experiences that are represented among us.
For this reason, prejudice, discrimination, and bias related actions by community members or visitors and guests, based on race, religion, age, gender, disability, sexual orientation, or nationality, are counter-productive and harmful to the purposes of our educational community. The college does not limit freedom of expression, particularly speech, even if the ideals and values held by some of its members are challenged by that speech. Even bigoted or racist speech or other forms of intolerant speech or offensive expression are protected. In this way, the college values of an inclusive and diverse learning environment may occasionally be challenged by or at least not by furthered by, freedom of speech. However, conduct that targets a specific individual or group of individuals and creates an unreasonable interference with that individual's or group's ability to pursue educational purposes or to benefit from college life is prohibited by the college through this policy, the Code of Student Rights, Responsibilities and Conduct, and Regulations for Public Order."
According to many students in the audience, the email was a personal insult and a way to protect the student from the responsibility of his actions.
"Everybody keeps talking about intention. Whether or not he knew that what he was doing was wrong or he intended for it to be wrong, it still had an impact," said Sarah Mitchel, who along with other students went to the administration to express their concerns and found them to be "very receptive" and "cooperative."
The biggest question in the discussion was how the students and the college can work to prevent situations like this. Students criticized the lack of diversity education provided by Oswego State and suggested that if the school does not do anything, it is up to the students to educate one another and their peers.
"You know how to do this. You know how to become one Oswego," Jerald Woolfolk said addressing the crowd. "But it's going to take effort, courage. It's going to take somebody saying 'that's not right.'"
Students left the meeting with one question remaining: what will happen next? Woolfolk assures steps are being taken to address the diversity education on campus.
"What I've proposed to the students with whom I've met is that we establish a diversity taskforce and that continue this conversation that the BSU started in its meeting a couple of weeks ago," Woolfolk said. "And that we as a group, which include faculty, students, staff, as a group we develop some initiative and a plan in terms of speaking to these types of issues, having better education to our students about diversity and how some of these things can be offensive."
According to Woolfolk, some of the plans include to provide a diversity training as part of the new student orientations, developing a diversity campaign to recognize formally the diversity among students and faculty by celebrating the federal heritage months and seeing whether they can make diversity education a part of the registration process for student organizations.
She said the school has identified the student and they are working with him in terms of conduct and compliance to educate him.
Van Cura agreed to an interview before spring break, but later changed his mind.
Justin Brantley, the president of the Black Student Union, plans on arranging a rally sometime in the next week to continue the conversation of race relations on campus.
"I hope that something is going on in the works," Brantley said. "And that we are not just getting pushed, and campus wide announcements just to silence BSU."