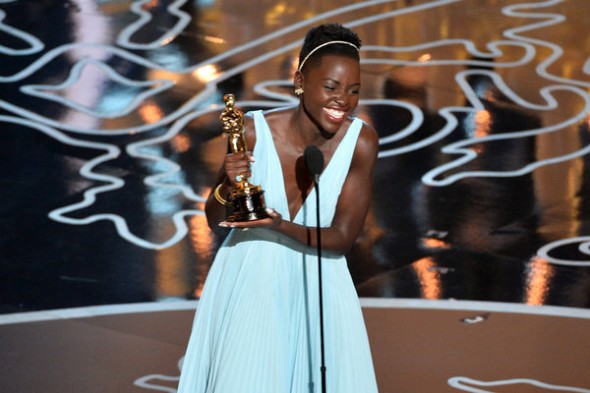 Last Sunday, the film industry's largest award show became the nights most talked about television entity. Millions gathered around their screens as the 86th Annual Academy Awards, otherwise known as The Oscars, took place.
The broadcast, hosted by second-time host Ellen DeGeneres became the most viewed Academy Award show in 10 years.
The night was filled with pizza, selfies and crazy antics that led to the show lasting for more than three hours. Large audience responses caused Twitter to crash and, as millions tuned in rooting for their favorite films, laughs swept across the nation.
Some of the funniest jokes of the night came from Ellen herself. From the get-go, Ellen seemed largely concerned with the hunger of guests and continued to follow through with the joke by actually ordering pizza. If an award existed for longest-running joke, she would win. But, as the A-list stars chomped down on pizza, the event ultimately felt more light-hearted and human. Overall, the pizza segments amounted to some of the night's greatest moments.
Other jokes included poking fun at the college graduates in the crowd, noting Meryl Streep as "Her" and comparing the ceremony to "The Hunger Games." Ellen also poked fun at herself throughout the night, saying that Jonah Hill had shown her something she has not seen in a very long time.
Other terrific moments came from all of the night's best original song nominees. Pharrell Williams, nominated for "Despicable Me 2" and its track "Happy," offered an upbeat and energizing performance for guests and viewers alike. "Her" was also nominated for best original song with Karen O's "The Moon Song" providing a more low-key performance that was beautiful and simplistic. U2 also brought their A-game with a performance of their nominated track, "Ordinary Love" from "Mandela: Long Walk To Freedom."
Lastly, there was Idina Menzel's performance of "Let It Go" from "Frozen." Menzel's performance, which had been largely hyped up in the media, was a little messy. From the beginning when John Travolta failed miserably at pronouncing her name, it seemed that things would not come together. The performance felt rushed and shaky and Menzel, who is known for her spectacular voice, unfortunately cracked. "Let It Go" still provided one of the night's most amazing performances, however.
Other highlights came in the form of acceptance speeches. Between Jared Leto's heartfelt mom speech and Cate Blanchett's women rule acceptance, the night was filled with pro-women moments. The most prominent speech of the night hands down was from Lupita Nyong'o. New to the film industry, Nyong'o's big moment arrived with teary eyes and thundering applause. It was a beautiful and well-spoken speech for a deserving nominee.
In terms of awards, winners were spread evenly throughout the night, with multiple films winning multiple awards. However, some films like "Nebraska," "Wolf Of Wall Street," and the most nominated film of the year, "American Hustle," left without a single trophy.
Nominated for everything and winning nothing, "American Hustle" left the Academy Awards practically empty-handed. The film, which follows a pair of con artists who pair off with the FBI to put away some corrupt politicians, received 10 nominations. After being labeled "Oscar bait," the film finished the night without any awards.
The night's best picture winner was taken home by the heartbreaking slave drama, "12 Years A Slave." Telling the story of a free man who is forced back into slavery, "12 Years" also took home wins for Lupita Nyong'o for best supporting actress and John Ridley for best adapted screenplay.
"Dallas Buyers Club" also took home multiple Oscars, with Jared Leto and Matthew McConaughey winning for best supporting actor and best actor, respectively. The film follows an HIV-positive man who begins smuggling drugs across the border with the help of a transgender man. "Dallas Buyers Club" also took home the award for best makeup and hairstyling.
"Gravity" won multiple awards. The film follows a doctor lost in space. With nominations and wins in best director for Alfonso Cuarón, "Gravity" also won Oscars for music, sound mixing, cinematography, and special effects. They also took home other awards for film editing and sound editing making them the night's biggest winner with a total of seven awards.
Other film wins included best actress winner Cate Blanchett who played a fallen socialite in "Blue Jasmine," and best original screenplay, which went to Spike Jonze for "Her." "Frozen" also took home two awards, including best animated feature and best original song. Lastly, "The Great Gatsby," which was largely regarded as a snoozer, also took home two awards for best costume design and best production design.
The award show overall was a success. It was one of the funniest and most intriguing ceremonies in years. With mostly clean humor and some really beautiful moments, it's almost a shame that this year's Academy Awards are over.