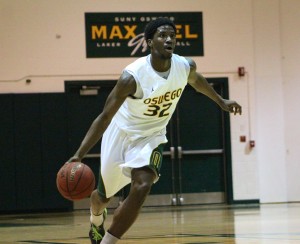 The Oswego State men's basketball team is set to take on SUNY Cortland tonight in the opening round of the SUNYAC playoffs.
This will be the Lakers' third meeting with the Red Dragons this season. Oswego State swept the season series, securing a 60-41 home win and a thrilling 78-76 overtime win in Cortland, just this past weekend.  The Lakers (16-9, 10-8 SUNYAC) clinched the No. 4 seed in the SUNYAC Tournament while Cortland earned the fifth.
On Feb. 22, Oswego State upended the Red Dragons in overtime thanks to some late game heroics from sophomore Kyle Covley and senior Daniel Ross.  A solid night from the perimeter helped the Lakers secure the victory, shooting 8-for-19 (42.1 percent) from three-point range.
For Oswego State to advance and keep its championship aspirations alive, the Lakers will likely rely on the scoring of Ross, who averaged 18.6 points per game this season.
The Lakers will have to rely on more than just Ross, though. Oswego State will look for additional scoring from sophomore Elijah McLaurin and freshman Matt Crockett, who have been consistent down the stretch, each scoring 13 points in their last contest.
Talented freshman Keith Tyson is expected to start for the Lakers. Tyson said the keys to victory are to "not to feel comfortable and expect to win. We have to play with the same intensity and passion we showed the first two games."
Tyson said the team will go in with the same game plan, despite already playing two games against Cortland, the last taking place just three days ago on Feb. 22
"Game plan is the same," Tyson said. "If we take the game play by play and not worry about the end result we should come out on top again."
Tyson said the team has been focusing on limiting the Red Dragons open looks from behind the three-point arc and playing solid defense for all 40 minutes.
The Lakers will take a two-game winning streak into the playoffs and look to build on what has been a strong season.
Opening tip this evening is scheduled for 7 p.m. at Max Ziel Gymnasium in Laker Hall. The winner will advance to the semifinals on Friday at The College at Brockport against the No. 1 seeded Golden Eagles at 8 p.m.