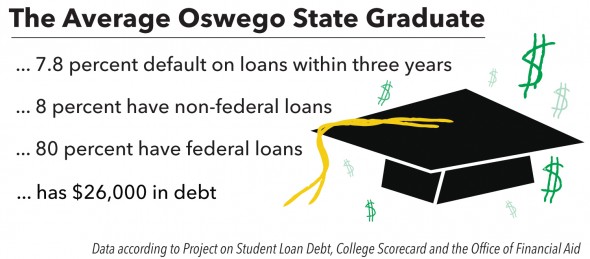 An investigation has been launched by Gov. Andrew Cuomo into companies who are part of the process of loan refinancing.
The investigation, announced in a press release from Cuomo's office, will run through a division of the New York State Department of Financial Services.
The average student loan debt of a New York college student is $24,803 according to the Federal Reserve Bank of New York's 2012 fourth quarter student loan debt analysis. Oswego State's student default rate is below the nation's 13.4 percent at 7.6 percent according to the White House's College Scorecard for the university.
The Student Protection Unit aims to investigate and prevent students from falling victim to company scams that charge students to pay for services the federal government already provides for free.
Cuomo put the unit into effect in his budget. The release explains, "as part of his 2014-15 Executive Budget, Governor Cuomo established a new Student Protection Unit within DFS to serve as a consumer watchdog for New York's students."
Oswego State's Director of Financial Aid Mark Humbert said that for the most part there is no advantage to refinancing student federal loans.
"Direct student loans, now, can typically be refinanced for better rates," Humbert said.
Humbert explained that Oswego State's financial aid office emphasizes students borrow as little as possible, or with the least amount of trouble (high interest rates, short repayment timeframes).
According to Humbert, for the 2013-2104 school year 578 students have borrowed from non-federal loan programs this year, about 8 percent of all students.
About 5500 students have borrowed from the federal loan programs for 2013-14, according to Humbert, about 80 percent of all students.
Humbert invites students to talk with his office before they take the steps to refinance their student loans. He wants students to be aware of the pitfalls that are out there, something Cuomo's unit is hoping to combat.
One of the main problems that the unit is taking on concerns student debt relief companies claiming to offer services that are already offered to borrowers for free by the government. The press release states that there have been concerns "about whether these private companies are charging improper, high upfront fees for simply funneling students into free government programs. A recent National Consumer Law Center report detailed these and other troubling practices within this industry."
The press release specifies that the unit has already sent subpoenas to 13 student debt relief companies on Jan. 22. The companies are as follows:
● AlphaOne Student LLC
● Brelvis Consulting, LLC d/b/a The Student Loan Help Center
● Consumer Protection Counsel, P.A.
● Debt Be Gone, LLC
● Default Student Loan Assistance, LLC
● Interactiv Education, LLC d/b/a Direct Student Aid, Inc.
● Omega Capital Advisory LLC d/b/a Federal Student Aid Relief
● Student Consulting Group, Inc.
● Student Loan Relief Center, Inc.
● Student Loan Service
● US Student Loan Helpers, Inc.
● US Student Loan Services, Inc.
● Xtreme Products LLC d/b/a USA Student Loans
Matt Anderson, deputy superintendent for Public Affairs at the NYS DFS, said that the unit currently has about a half-dozen DFS employees dedicated to the unit, something he says could expand in the future.
Anderson said there are two main goals for the unit; consumer education and an investigative capacity.
"[The companies are] selling students a raw deal," Anderson said. "We investigate that."
He said that the unit is looking for violations of consumer protection requirements.
Anderson said the subpoenas are asking for advertising materials, contracts, consumer disclosures and fee schedules. The unit's investigation is still ongoing according to Anderson, who suggested that students who think they are facing difficulties with refinancing with private companies reach out to the DFS. He added that the unit investigates consumer complaints.
Timothy James, a 2013 graduate of Oswego State recently took a look at refinancing his loans. He said he ultimately didn't see a point.
"All of my student loans are at a fixed rate, with unsubsidized Stafford loans at 6.8 percent and subsidized Stafford loans at 3.4 percent," James said. "For me personally, consolidating these loans doesn't really provide me with any benefit. It would all be merged into one loan that would have an interest rate equal to what I'm paying overall for my loans right now."
James explained that he would lose the benefit of making early payments on the loan with an interest rate of 6.8 percent, in order to lower his costs due to interest, if he combined his loans. James said that having to make payments on student loans is a rough experience.
"Just the minimum payments on my student loans take up to 15 percent of my after-tax income, and I landed on my feet with a great job after college," James said. "Actually paying down this debt, let alone my wife's, will take years. Anything you can do to decrease the amount of loans you have to take out in college will be extremely helpful for you down the road after college."
Humbert explains that some companies will approach students with low upfront costs to refinance their payments to an initial lower payment, but the companies are "not disclosing the rest of the payment." Humbert said that this unit forces companies to be honest.
Students currently enter Oswego State and face a loan entrance program. Upon graduation from the university students go through an exit counseling session to inform them of their options when it comes to repaying their loans, Humbert said.
In a few weeks, Humbert said a financial literacy site aimed at helping students better understand their finances will be available through myOswego. The program can help students with budgeting their money, understanding loans and taking a look at expenses.
Humbert said he is not against the nine-course program being required for all students, but hopes that professors will take time to use the program with students.
As for students dealing with loans and debt, Humbert said that it is unavoidable.
"It's a reality of higher education," Humbert said. "[We] can't eliminate it, but we can make sure students aren't getting in trouble with [debt]."
Humbert said that federal student loans already combine for students and, as far as private loans go, there "are not any good products where combining is a good thing."