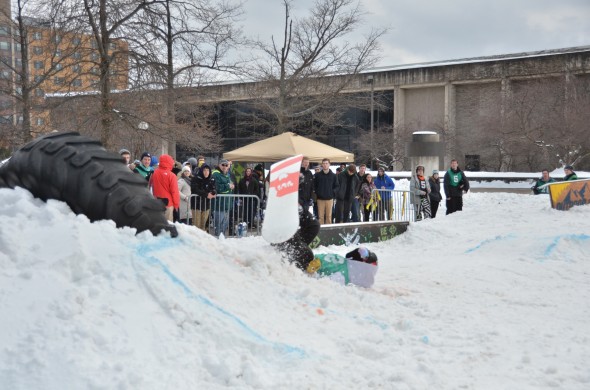 Students that happened to walk through the campus last Saturday may have noticed a miniature mountain directly in the center of campus.
The third annual Rail Jam was held with the help of the Oswego State grounds crew and a few dedicated Ski Club members. Students had the opportunity to show off their snow-riding skills while competing against each other in separate heats. The grand prize was a Red Bull T-shirt. Those who were not participating in either skiing or snowboarding participated in numerous activities provided by The Lifestyles Center and the Outdoor Club.
With free beverages provided by the national sponsor, Red Bull, being available to all, combined with exceptionally loud music provided by WNYO, students did not hesitate to pull off some of their favorite tricks. Oswego State Ski Club is one of the biggest groups on campus with 135 members on Laker Life.
President of the Ski Club, Nick Christopher, took note of those who came together and made the event possible.
"The first year it was a struggle, it was really a big group effort this year," Christopher said.
Waking up as early as 5 a.m. to shape the miniature mountain along with adding rails and obstacles, it took after numerous hours and a lot of hard work before the slope was ready to ride.  The atmosphere was loud and vibrant.
"Even though it was a competition, it's still about having fun." Eric Randall, vice president. of the ski club, said. "This is the best set-up yet."