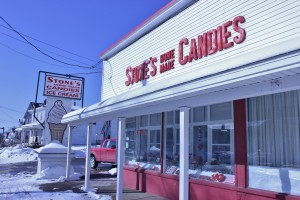 Students with a sweet tooth for chocolate and candy have a local source to fill their cravings. Stone's Homemade Candy Shop on West Bridge Street sells a variety of chocolates and candies, and even ice cream when it's warm out.
Stone's is locally and family owned by Jan and Margaret Stachowicz, for over 40 years, since 1973. At Stone's, all the chocolate and candy is made right in the store.
The store is the perfect size for customer browsing. Chocolate assortments displayed on the wall are the first thing you see when you walk in. Candy is displayed on the counter tops, and chocolate lines the showcases.
Stone's has filled and solid chocolate and also a variety of carved chocolates, ranging from a horse head to the Oswego Light House, to ballerina shoes, to pizza and wings. The store also offers a variety of other chocolates, including dark, milk and white, sugar-free, and single chocolates priced by the pound. Margaret says she can't give an exact number of how many different chocolates the store sells, but she says it's "many, many, many."
Stone's also has a wide selection of candies. There are sugar-free options for candy, mini fruit candy, and jelly-belly jellybeans.
For Valentine's Day, the store was decorated with themed chocolates and candies. Margaret said for holidays the store will hold special promotions. For example, around Easter time, Stone's sells baskets with chocolate bunnies and eggs.
Students are welcomed anytime at Stone's. Chocolate lovers should try the potato chips covered in milk chocolate and sea-salt dark and milk caramels.
Stone's is open 9 a.m. to 5 p.m., Monday-Saturday.